Vezain Claims First Fort Worth Average Title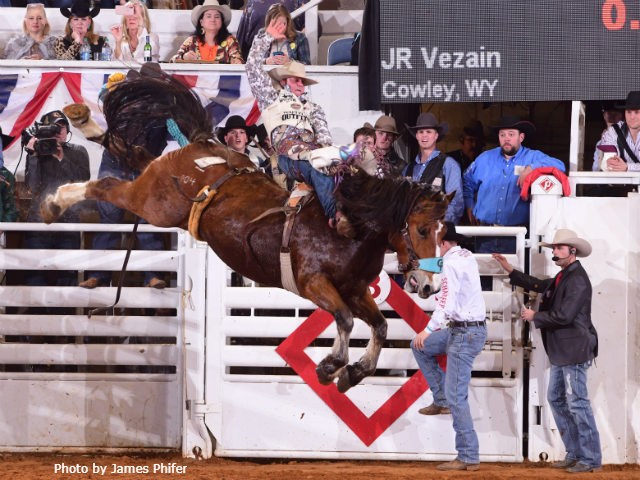 FORT WORTH, Texas – J.R. Vezain might be at the start of something good.
The five-time Wrangler National Finals Rodeo qualifier just won his second consecutive bareback riding competition, and this one for double-digit earnings.
Vezain won more than $10,000 after claiming the average at the Southwestern Exposition and Livestock Show in Fort Worth, Texas, Saturday night.
"Any big win is a big confidence boost," said Vezain, who finished with 338.5 points on four head.
Vezain's first ride in the finals on Saturday was enough to put him narrowly in the lead but he was offered a re-ride and took it. The re-ride was even better. Vezain scored 87.5 points on Pickett Pro Rodeo's Top Notch to win the finals round and lock down the average.
"I didn't even know if I was winning or not," the Wyoming cowboy said. "They asked if I wanted a re-ride. When you're in that situation you've got to lay it out on the line and go for first. You've got to keep swinging for the fences. That horse bucked. It was a great horse."
Vezain kicked off his Fort Worth competition with 88.5 points on J Bar J's Painted Brush, winning that round, too. He entered the final round third in the average.
It was the first time since his rookie year that he'd made the short round at Fort Worth.
"I was telling my wife on my way down here that it's one of the buckles I've most wanted in my career just because it's a little, old-school, itty, bitty buckle," Vezain said. "It's the kind a guy could wear on his work belt at home where every day when you bend over it won't gut you."
Vezain entered the weekend in 19th in the PRCA World Standings. That ranking is going to take a huge jump up after Vezain took home $10,818.
Vezain won $107,519 at the WNFR in December to place third there and finish fourth in the 2017 world standings.
It's extremely early in the season, but after Vezain's win at Fort Worth he could be headed to his sixth WNFR qualification and third in a row. At the very least, the big win puts him in prime position to keep battling it out for a spot in the Top 15 in the world standings.
"We tend to enter smart and get on the good ones and don't go to every rodeo there is," said Vezain, who turns 26 later this month. "Enter the big ones and go have a good chance to win every time you nod your head. It feels good to get on a heater this early in the season. If you have a decent winter, it sets up your whole season."
Right now, Vezain's winning percentage in the 2018 season is 66.7 percent. He's won two of his three 2018 rodeos, including the Montana Pro Rodeo Circuit Finals in Great Falls, Mont., in mid-January.
"I hope it's the start of a heater," Vezain said. "I hope I can keep that percentage up for the rest of the year."
Courtesy of PRCA