Vold, Buhler and Simpson Continue WNFR Success
Courtesy of Wrangler Network contributor Ted Stovin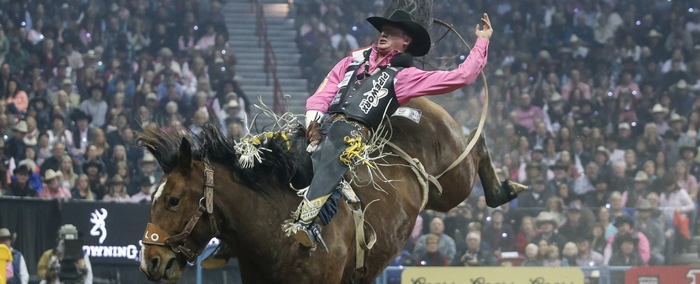 LAS VEGAS, Nevada — There are three Canadian Cowboys that have won a round at the 2016 Wrangler National Finals Rodeo. On Monday night at the Thomas & Mack Centre on the campus of the University of Nevada, Las Vegas, they all doubled down.
Jake Vold of Ponoka, AB earned his first go-round buckle on Sunday night and got his second on Monday. Vold put up 89 points on Wilson Sanchez from Hi Lo Pro Rodeo, a horse raised by Darcy Hollingsworth for another $26,231 check.
"I want someone to jump out there with a 90 so I can go get them," Vold said. "Seeing big rides before me fuels my fire. I love being down the list a little bit and seeing some guys ride before me. All the guys and all the horses in that pen tonight were just phenomenal."
To this point, the three-time Canadian Champion has already matched his 2014 WNFR earnings total, with $75,012 so far this year in half the time.
"I feel good, but we're only at the halfway mark and we have five more to go," Vold said. "I'm looking forward to these next five rounds. You can't get carried away with a few big rides because this is a marathon. But I'm having a lot of fun and getting into a rhythm here."
Levi Simpson (Ponoka, AB) and Jeremy Buhler (Arrowwood, AB) split the team roping for $23,481 with a time of 4.0 with Kaleb Driggers and Junior Nogueria.
"We just missed the (WNFR) field last year," Simpson said. "This year, we worked harder at it, put in more practice time, prepared mentally for every situation in the arena so we'd be programmed to react to it, because unconscious thought is faster than conscious thought. That made us more consistent. And we simplified our schedule, entered fewer rodeos and stayed rested up."
To this point, Simpson and Buhler have chalked up $66,058 in earnings, ranking seventh and sixth on their respective ends in the world standings so far.
"(The beard and) I don't get caught up in the show; I don't hear the music, I just keep it simple and watch the feet," Buhler said.
Speaking of the beard.
"The steers don't care but Levi's little girl sure doesn't like it which is a bummer because I like kids," Buhler said. "It started as a bet – if I could stand to grow it for three months, I got to pick the hat another guy wore at the Canadian finals. But if I shaved, he got to pick my hat. I won and then I just grew attached to it."
The beard shall be feared as the two rank second in the aggregate so far.
Nanton, AB's Clay Elliott broke the ice to get his first check in Round 5. Elliott put up 86.5 points on Bar T Rodeo's Son of Sadie for a split of third and $13,327. Elliott is 14th in the aggregate and the same spot in the world to date. Jake Watson of Hudson's Hope, BC picked up his third check so far after placing sixth thanks to an 85 on Resistol's Top Hat from Stace Smith. On Monday it was another $4,231 pushing his total to $38,558 in five days.
Zeke Thurston (Big Valley, AB) put 81.5 points on the board but was out of the money. Orin Larsen (Inglis, MB) and Kolton Schmidt (Barrhead, AB) have yet to earn a check.
On the stock side of things, Wayne Vold's Mucho Dinero matched up with R.C. Landingham for 87 points and a check for $15,654. Xplosive Skies from the Calgary Stampede was the top bareback horse of the night dispatching Orin Larsen.
#TeamCanada earnings through Round 5: $322,797 (including $80,000 in appearance fees)
Canadian bucking stock earnings through Round 5: $197,367
Go round buckles to date: 10
Levi Simpson and Jeremy Buhler – Round 1
Get Smart – Northcott/Macza – Round 2
Cooper's Comet – Vold Rodeo – Round 2
Virgil – C5 Rodeo – Round 3
Jake Vold – Round 4
Wranglers Extreme – Calgary Stampede – Round 4
Jake Vold – Round 5
Levi Simpson and Jeremy Buhler – Round 5
Coverage of the 2016 Wrangler NFR on Everything Cowboy is brought to you by 3D Bull Riding Inc. Click or tap the logo below for new styles of hats, on sale today!