Vold is Gold in Round 4 of the WNFR
Courtesy of Wrangler Network contributor Ted Stovin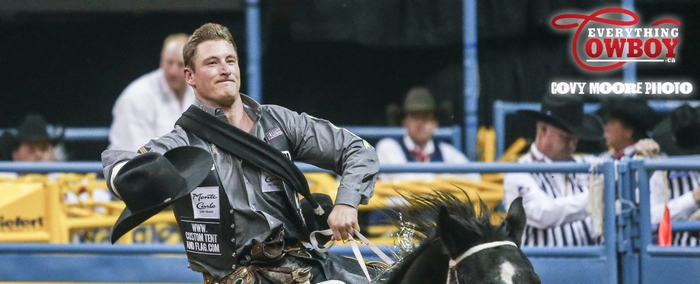 LAS VEGAS, Nevada — Jake Vold earned his first go-round win the the Wrangler National Finals Rodeo on Sunday night at the Thomas & Mack Centre.
"This feel phenomenal," Vold said. "The first time I was here (2014) I won or split second a few times and came close but couldn't get it done. To finally get one is a great feeling and it's pretty cool to be able to say I won a go-round at the NFR."
Vold, of Ponoka, AB put up a huge 89.5 point effort on Lil Red Hawk from Flying U Rodeo for the $26,231 check.
"The mare is phenomenal, and she's been around for a long time," Vold said. "I knew if she showed up and did her part, and I did mind, it would be a big score. She looked good in the back pens and when I saw my name next to hers on the draw it was pretty exciting. I was fast with my feet and went after it hard. The week is young but I feel healthy and ready to go. Canada will be excited about this – it'll be quite the night up there."
Vold moved up to sixth in the world but needs to double his yearly earnings still to catch number one, Tim O'Connell.
Quite the night is right, with four other Canadians placing and the Calgary Stampede earning their first go-round buckle.
Jake Watson of Hudson's Hope, BC picked up his second check of the week, this one worth $13,327 for a split of third at 84 points on Calgary Stampede's Tokyo Bubbles. Zeke Thurston of Big Valley, AB earned his second check in as many nights ($5,500) thanks to his 83.5 point effort on United Pro Rodeo's Ropin Dreams. Watson ranks third in the aggregate, Thurston is sixth, Watson is 12th in the world having crossed the $100,000 mark on the year this evening while Thurston remains sixth.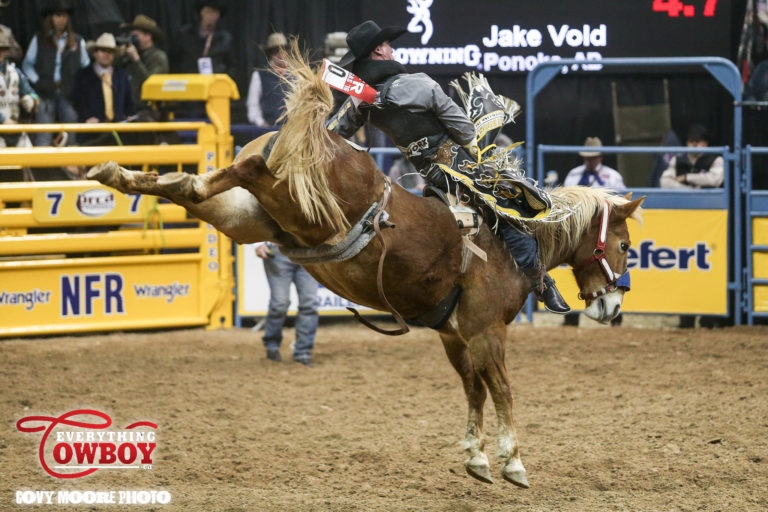 Levi Simpson (Ponoka, AB) and Jeremy Buhler (Abbotsford, BC) picked up their third check in four nights at their first NFR. A time of 5.4 seconds was the result before Buhler slipped a leg. It still caught last hole for $2,115 a man. The pair are second in the aggregate so far, Simpson is ninth in the world and Buhler is seventh.
Nanton, AB's Clay Elliott has yet to get a check at his first WNFR, being bucked off United Pro Rodeo's Pow Wow Nights in Round 4. Kolton Schmidt (Barrhead, AB) is in the same boat, as is Orin Larsen (Inglis, MB). Schmidt went out with another no time however Larsen was 83 points on J Bar J's Pass the Hat, half point out of the dinero.
On the animal athlete side of things, Oklahoma's Brennon Eldred won the bull riding on a re-ride which happened to be Wranglers Extreme from the Calgary Stampede. The score was 86.5 points for the big check worth $26,231 and Eldred's first go-round buckle at the WNFR in his third appearance.
#TeamCanada earnings through Round 4: $232,046 (including $80,000 in appearance fees)
Canadian bucking stock earnings through Round 4: $181,713
Go round buckles to date: 7
Levi Simpson and Jeremy Buhler – Round 1
Get Smart – Northcott/Macza – Round 2
Cooper's Comet – Vold Rodeo – Round 2
Virgil – C5 Rodeo – Round 3
Jake Vold – Round 4
Wranglers Extreme – Calgary Stampede – Round 4
Coverage of the 2016 Wrangler NFR on Everything Cowboy is brought to you by 3D Bull Riding Inc. Click or tap the logo below for new styles of hats, on sale today!