Vosler Snares Wrangler ProRodeo Win in Logandale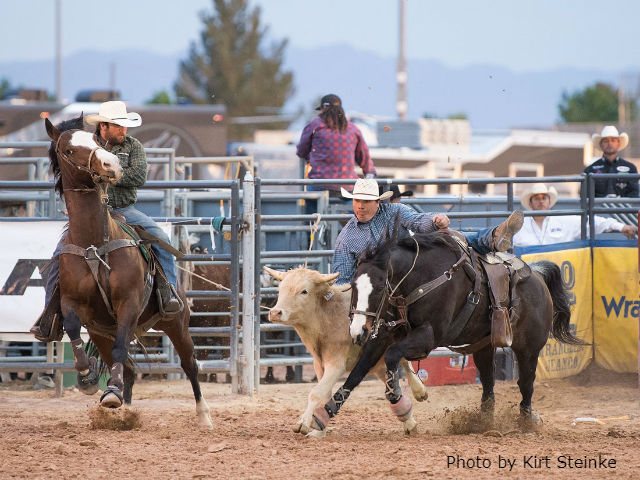 LOGANDALE, Nev. – Steer wrestler Aaron Vosler picked a big night to have the best night of his career.
The Cheyenne, Wyo., cowboy clocked a 3.5-second time in the finals of the Clark County Fair & Rodeo on April 15 to catapult himself to the victory in the three-head average in 12.5 seconds.
"I've been here (to Logandale) four or five times and this was my first win here," Vosler said. "This win ranks at the top of the list, and it feels great to be the champion."
The Clark County Fair & Rodeo was the first in the PRCA's new tour – the Wrangler ProRodeo Tour. The Tour will feature 23 rodeos – beginning with Logandale and concluding with the finale presented by Justin Boots, Sept. 6-9 in Puyallup, Wash.
"I would love to get into Puyallup," Vosler said. "I really like this Tour, especially now that I won Logandale."
When Vosler prepared for his final run, he was full of optimism.
"I knew I had the best steer, a steer they were 3.4 on in the long round," said Vosler, 37. "I didn't have a great run, but that steer was so good he made me look good. I've been blowing the barrier out everywhere I have been going and I just decided I was going to keep doing what I've been doing. I'm not sure what I have been doing, but I'm trying not to mess with it, especially after tonight."
The media coverage of the Wrangler ProRodeo Tour will be divided between ProRodeoTV.com and the Wrangler Network.
ProRodeoTV.com will livestream 12 broadcasts, while the Wrangler Network will livestream the other 11 Tour rodeos.
Winning the inaugural Wrangler ProRodeo Tour rodeo wasn't lost on Vosler, nor was the $5,074 he earned before leaving town.
"This feels awesome," Vosler said. "I'm so excited, and I can always use a check like this that I earned at Logandale."
With the Wrangler Tour, all cowboys eligible to compete in the tour rodeos will have the opportunity to earn Tour points and qualify for the Justin Boots Tour Finale in Puyallup.
For an explanation of the Wrangler ProRodeo Tour points system, go to www.prorodeo.com.
The victory was special for Vosler, and he knew he could not have done it without his horse, Flamer, 18.
"I've used him for the last seven years everywhere I've gone," he said. "I bought him when he was 10 years old and he was a head horse who was born to be a bulldogging horse. I love rodeoing, everything about it. I love the people. I'm hooked. I have a horse that's competitive and that's what keeps me going. My horse is the reason I win."
Vosler joined the PRCA in 2001 and is still chasing a bid to the Wrangler National Finals Rodeo. His best finish was 32nd in the PRCA World Standings in 2015.
"I would love to make the NFR," Vosler said. "If I can build off this win and keep my momentum going and keep winning I will be in good shape."
Other winners at the $251,100 rodeo were all-around cowboy Trevor Brazile ($8,837, tie-down roping and team roping), bareback rider Tilden Hooper (177 points on two head), team ropers Andrew Ward/Reagan Ward (15.1 seconds on three head), saddle bronc rider Wyatt Casper (167.5 points on two head), tie-down roper Marty Yates (26.3 seconds on three head), barrel racer Brittany Pozzi Tonozzi (34.36 seconds on two runs), and bull rider Tyler Bingham (172 points on two head).
For more coverage of the Clark County Fair & Rodeo check out the April 20 issue of the ProRodeo Sports News.
Courtesy of PRCA