Wade and Kirchenschlager Rope Cheyenne Title
by Justin Shaw | Jul 31, 2016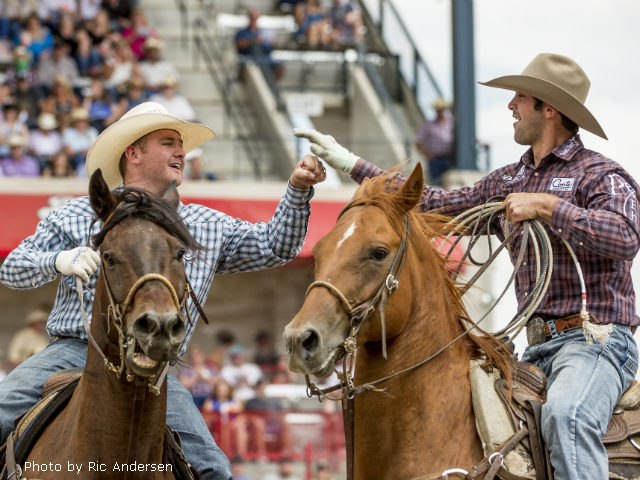 CHEYENNE, Wyo. – Tyler Wade and Dakota Kirchenschlager have only been roping together for four months, but they looked like seasoned veterans in the short round Sunday.
The pair of 24-year-olds came into the finals of the Cheyenne Frontier Days in the lead, and they kept it that way to earn the biggest win of their PRCA careers.
"I've won a lot of different events, but it's such a big deal to win this rodeo," Wade said. "This is awesome."
Kirchenschlager came close to capturing his first Cheyenne title last season, finishing second by three-tenths of a second with partner JoJo LeMond.
"I've been coming here for the last six years since I bought my PRCA card, and I love this rodeo and will always come back to it every year," Kirchenschlager said. "I was second here last year, and every year but one I've at least placed in a round. After being so close last year, it made me want it even more this time. No matter what the draw, you always have a chance to win in Cheyenne, which is what makes this place special."
The duo placed second in the final round with a time of 9.8 seconds, and clocked a time of 27.0 seconds in the three-head average, which was plenty fast enough to hold off Kaleb Driggers and Junior Nogueira by 1.4 seconds.
"We had to be like 11.4 to tie (Driggers and Nogueira), and I love Driggers, but I dang sure didn't want to tie him," Wade said with a smile.
"We came back first, and wanted to stay there," Kirchenschlager added. "You need to have that killer instinct. We're all friends, but when it comes to a rodeo like this, you have to do your best so your family can eat."
Wade and Kirchenschlager won the first round with a 7.2-second run, the fastest time of the rodeo. They failed to earn a check in the second round, but with the average money included, both men earned a total of $15,846.
Wade entered the weekend 24th in the WEATHER GUARD® PRCA World Standings among team roping headers, and Kirchenschlager was 20th in the heeler standings.
The big Cheyenne win is going to put both men in contention for the Wrangler National Finals Rodeo presented by Polaris RANGER.
Wade has never been to rodeo's Super Bowl, while Kirchenschlager was there in 2012 and '14.
"We're definitely ready to be at the NFR together this year," Wade said. "We both have a fast and aggressive style, and when we come together and rope like we can, we win a lot. I don't even know if we have that good of chemistry, really. You normally wouldn't put two fast guys with a lot of rope out there together. But it seems to be working well right now."
"I think we have good chemistry," Kirchenschlager interjected. "I think the main thing that we have over other teams is that we know how to react to a situation. No matter what the steer does, we don't get flustered and stay focused on the run."
Other winners at the $831,571 rodeo were all-around cowboy J.D. Yates ($24,351 in team roping and steer roping), bareback rider Orin Larsen (255.5 points on three head), steer wrestler J.D. Struxness (26.7 seconds on three head), saddle bronc rider Jacobs Crawley (261 points on three head), tie-down roper Jerome Schneeberger (39.1 seconds on three head), steer roper Jarrett Blessing (53.9 seconds on three head), barrel racer Tillar Murray (52.73 seconds on three runs) and bull rider Roscoe Jarboe (246 points on three head).
For complete coverage of Cheyenne Frontier Days, check out the Aug. 12 issue of the ProRodeo Sports News.
Courtesy of PRCA