Waguespack Makes it a WCC Hat Trick
by Justin Shaw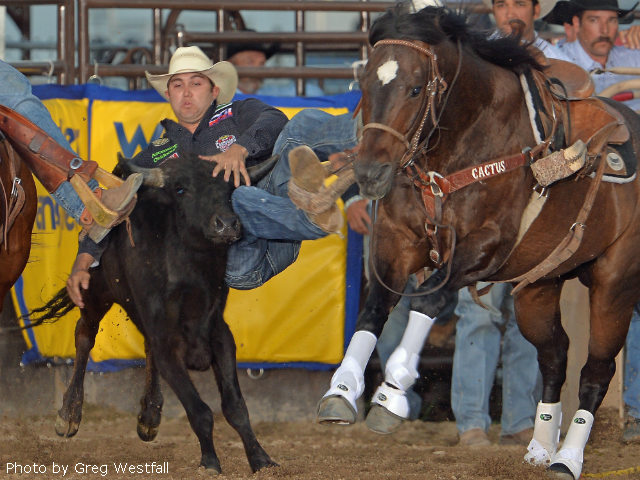 SPANISH FORK, Utah – Tyler Waguespack officially has the magic touch when it comes to the Wrangler Champions Challenge presented by Justin Boots.
The 25-year-old steer wrestler captured his third win in the series' last five events Saturday night when he clocked a 3.4-second run.
Waguespack adds the victory in Spanish Fork to triumphs in Kissimmee, Fla., last October, and Rapid City, N.D., in February. He also finished second at the Scottsdale, Ariz., WCC event.
"I've been having a lot of luck at these, and have been riding some really good horses," Waguespack said. "Tonight, I was riding Ty Erickson's horse, Shake 'Em, the 2015 Horse of the Year.
"I was first out and didn't know what the start was going to be. Jason Thomas was my hazer, and he did an amazing job. I had the steer coming my way when I jumped off my horse. Jason and I have been friends for a long time, and we always try to help each other win."
Waguespack, who competes for Team ProRodeo Gear, took home a check for $3,944. He has now earned a total of $16,684 at WCC events, which is more than a third of his total money won for the 2016 season.
Waguespack's big performances at WCC events have him second in the WEATHER GUARD® PRCA World Standings, narrowly trailing Thomas for the top spot.
After placing 11th in the world last year – his best career finish – Waguespack is taking his game to another level, and has gold on his mind.
"Everybody wants a gold buckle, and it's every cowboy's dream," he said. "I want to be remembered 100 years from now as a world champion. I feel like I'm a lot more relaxed this year and making better decisions, and I'm treating it like a business."
There weren't many cowboys who had to travel more miles than Waguespack to get to Spanish Fork. The Gonzales, La., native loves to represent the Bayou, and is making his home state proud with his 2016 performance.
"In Louisiana, there are a lot of kids I help out, and I was making calls this weekend to see what they were doing at the state high school rodeo finals," Waguespack said. "I was more concerned about how they did tonight than what I did. It means a lot that those kids look up to me, and it makes me want to be a good role model for them."
Other winners at the $92,800 rodeo were bareback rider Orin Larsen of Team Coors (87 points on Powder River Rodeo's Craig At Midnight), team ropers Matt Sherwood and Quinn Kesler of Team RAM (5.7 seconds), saddle bronc rider Rusty Wright of Team Wrangler (87 points on Powder River Rodeo's Rain Cloud), tie-down roper Michael Otero of Team Ream's Western Outfitters (8.1 seconds), barrel racer Ivy Conrado of Team Wrangler (16.65 seconds) and bull rider Sage Kimzey of Team B&W Trailer Hitches (90 points on Rocky Mountain Rodeo's High Spot).
This was Larsen's first WCC win of 2016, as he was close twice before, placing second in both Rapid City (N.D.) and Redding, Calif.
Like Larsen, the team of Sherwood and Kesler have now earned checks in four of the five WCC events in 2016, and this was the pair's first win.
For complete coverage of the Spanish Fork WCC, check out the June 17 issue of the ProRodeo Sports News.
Courtesy of PRCA