Waguespack Snares All American ProRodeo Title
by Tracy Renck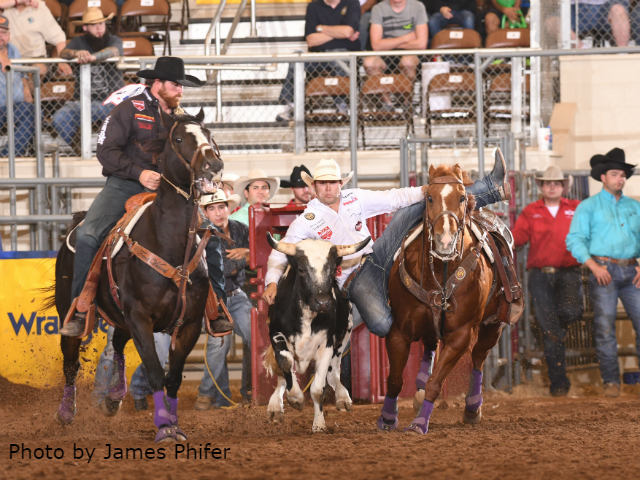 WACO, Texas – Riding a Cadillac paid dividends again for steer wrestler Tyler Waguespack.
The Gonzales, La., cowboy teamed with Cadillac, the 2016 American Quarter Horse Association/PRCA Steer Wrestling Horse of the Year, to stop the clock in 3.6 seconds in the four-man short round to capture the All American ProRodeo championship Oct. 15.
"This feels great," Waguespack said moments after he won his inaugural All American championship. "I knew I had a pretty good steer and he kind of started falling down when I caught him. I was trying to make sure I could get him over on his side before he fell all the way down. I had tons of confidence because I think I'm riding the best horse out there, Cadillac. I've had a lot of success with him, and he came through again for me."
Being the second cowboy out in the final four, Waguespack took an aggressive approach in the finals at the Extraco Events Center.
"You have to put some heat on them as far as pressure," said Waguespack, 25. "You have to run at it if you're going to succeed out here. Everybody is going for it."
Waguespack also won the Spanish Fork (Utah) Fiesta Days Rodeo on Cadillac, and he heads to the the Wrangler National Finals Rodeo presented by Polaris RANGER third in the WEATHER GUARD® PRCA World Standings with $85,458.
His traveling partners – Ty Erickson ($92,942) and Clayton Hass ($82,323) finished first and fifth in the final regular season standings, and will be joining Waguespack in Las Vegas Dec. 1-10. Hass actually hazed for Waguespack when he clinched the All American title.
"This is probably my biggest year-end win of my career," said Waguespack, who joined the PRCA in 2012. "Rodeos like this, you have to qualify for them all year, and it feels great to win here."
Waguespack, who qualified for his first Wrangler NFR a year ago and finished 11th in the world standings, departed Waco with a total of $13,563.
All money won at the 12 circuit finals rodeos, All American ProRodeo Finals and the RAM National Circuit Finals Rodeo – per new PRCA bylaws – count toward the 2017 WEATHER GUARD® PRCA World Standings.
"This win at the All American Finals is going to give me a big jump on the new year, which is really nice," Waguespack said.
Other winners at the $482,384 rodeo were barebackrider Winn Ratliff (90 points on Pickett Pro Rodeo's Top Flight), team ropers Jake Cooper/Tyler McKnight (9.5 seconds), saddle bronc rider CoBurn Bradshaw (88 points on Big Rafter Rodeo's Pearl), tie-down roper Caleb Smidt (7.2 seconds), steer ropers Scott Snedecor and Cody Lee (33.1 seconds on three head), barrel racer Stevi Hillman (15.73 seconds) and bull rider Dalan Duncan (86 points on 4L & Diamond S Rodeo's Go Texan).
For more coverage of the All American ProRodeo Finals, check out the Nov. 4 issue of the ProRodeo Sports News.
Courtesy of PRCA