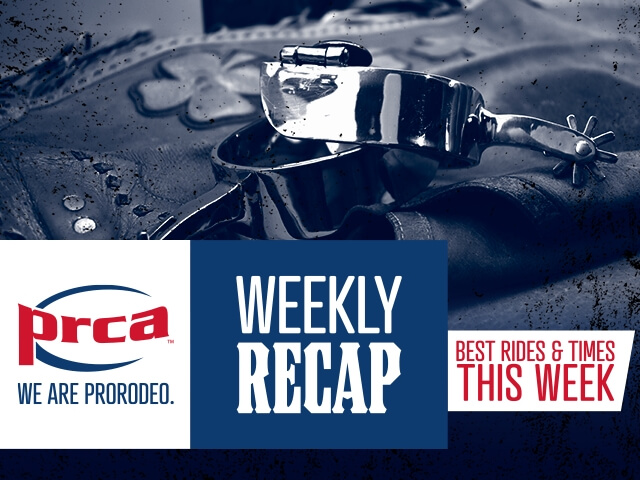 Cowboy Christmas is prime time to score big, run fast and collect the most prize money in a short amount of time. The first week of July is the pinnacle of PRCA regular-season competition, and the cowboys brought their best.
The fastest times and highest scores might not always make the record book, but they certainly make a lasting memory for fans and competitors. With about 650 PRCA competitions across the Western Hemisphere each year, there are plenty of opportunities to make a memorable ride.
Although the prize money differs from one competition to the next, the judging remains consistent across the board.
There were 34 PRCA competitions July 2-8, several of which are still underway, and each ride was a chance to be the best of the week. Here's a look at the highest scores and fastest times for each event during that period.
Bareback rider Richmond Champion made a 91-point ride on Powder River Rodeo's Craig At Midnight during the Black Hills Roundup in Belle Fourche, S.D., July 4.
Steer wrestler Will Lummus clocked in at 3.2 seconds at the Rooftop Rodeo in Estes Park, Colo., July 6.
Team ropers Dustin Egusquiza and Kory Koontz made a 3.5-second run at the Oakley Independence Day Rodeo in Oakley City, Utah, July 6.
Three saddle bronc riders made 89-point rides this week. Rusty Wright made 89 points on Frontier Rodeo's Maple Leaf at the Cody (Wyo.) Stampede, July 2. Clay Elliott registered 89 points on Brookman Rodeo's Satisfaction at the Home of Champions Rodeo in Red Lodge, Mont., July 4. Also on Independence Day, Chase Brooks had 89 points on Powder River Rodeo's Rich N Fancy at the Black Hills Roundup.
Tie-down roper Cooper Martin made a 7.6-second run at the Cody Stampede, July 3.
Steer roper Jason Evans clocked in at 9.5 seconds at the Black Hills Roundup, July 2.
Barrel racer Kristine Roy made a 14.51-second run at the Painted Pony Championship Rodeo in Lake Luzerne, N.Y., July 7.
Bull rider J.W. Harris made a 92-point ride on Frontier Rodeo's After All at the Cody Stampede, July 4.
Courtesy of PRCA