Weekly Recap: Tim Bingham Scores 93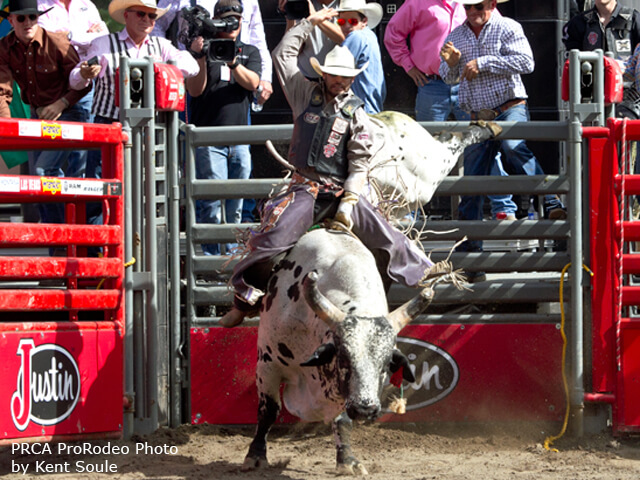 The stakes have never been higher for the 2018 season. The Wrangler ProRodeo Tour's Justin Finale at the Washington State Fair Pro Rodeo in Puyallup, Wash., presented nearly half a million dollars in prize money – which could be a deciding factor in who qualifies for the Wrangler National Finals Rodeo when the season ends in 20 days.
Puyallup wasn't the only place with PRCA action this week, as $812,775 in prize money was paid out among 18 rodeos across North America, Sept. 3-10.
Bull rider Tim Bingham set the pace for the weekend with a 93-point ride on Bridwell Pro Rodeo's 100x Helmet's Boothill during the semifinals at Puyallup, Sept. 9.
Bingham's ride broke the previous Puyallup record of 92 points held by Jesse Bail (2002), Robey Condra (2003), J.W. Harris (2009) and Tyler Smith (2010). His ride also tied for the highest-scored ride of the 2018 season. Brody Yeary had a 93-point ride on Summit Pro Rodeo's Mobster at the Gooding (Idaho) Rodeo in August.
The ride almost didn't happen, as Boothill tried to buck Bingham off three times before the chute opened, but the Utah cowboy prevailed.
"I knew he was a bull that was a high scorer, but to be 93, that goes beyond what people imagined," Bingham said. "Everyone wants to be that, but that's a score not many ever achieve, and I was really excited, that's for sure."
The Bingham brothers are the only cowboys to have successfully ridden 100x Helmet's Boothill at a PRCA competition. Tyler Bingham made an 87-point ride on Boothill in mid-April at the Clark County Fair & Rodeo in Logandale, Nev.
"It feels great, I usually have one or a couple of high scores in the 90s, and this year I hadn't had a 90-plus-point ride all season and wanted to get one in there," Tim Bingham said. "But to get an arena record is awesome. That's the first time I've done it in my career, and it's tough to do it nowadays with how high the scores are. It's definitely an achievement I won't forget, and hopefully it will last for a while."
Getting Boothill out of the chute was tricky with him trying to buck off Tim Bingham while still in the chute.
"We waited him out, and he finally gave me a good shot to go, and 93 points later it was worth the wait and worth trying him a bit in the chute," Tim Bingham said. "I knew it was all worth it. The way he bucks, the judges love it, and I knew I was going to like him."
Not only was this a Puyallup record, it was also a personal best for Tim Bingham, who has competed with the PRCA since 2011.
"It's the highest score I've ever had because it's so hard to get a bull that can get a guy up to 93 points," Tim Bingham said. "The atmosphere has to be right, and it's awesome that I did it at the Tour Finale."
Bingham made an 89-point ride in the first round of the Justin Finale and scored an 88 at the Xtreme Bulls event in Lewiston, Idaho, Sept. 5.
"It was a pretty good week," Tim Bingham said.
Bingham was battling an arm injury while riding Boothill and sustained further injuries during the final round on Corey & Lange Rodeo's Rewind.
"He (Rewind) is great, it would have been 90-plus on him too, but I lost my rope and you can't ride one that good with no rope in your hand," Tim Bingham said. "He definitely provides the scores to win rodeos, and I was stoked to have him.
"At 7 seconds I lost my rope and full control, apparently. He caught me with his back feet and knocked me out for a while. I was taking a pretty good dirt nap out there."
As of Monday, he hadn't gone to a doctor for a CT Scan, but he was considering it.
"If my collarbone is separated off my chest and if the top rib is out of place or broken, then I'll take a break," Tim Bingham said. "I'm pretty dang tender and will have to get checked out."
The fastest times and highest scores might not always make the record book, but they make a lasting memory for fans and competitors. With about 650 PRCA competitions across the Western Hemisphere each year, there are plenty of opportunities to make a memorable ride.
Although the prize money differs from one competition to the next, the judging remains consistent across the board.
In addition to the fame that comes with winning the most prize money, each ride was a chance to be the best of the week. Here's a look at the other highest scores and fastest times for each event during that period.
Bareback rider Richmond Champion had a 90-point ride on Bridwell Pro Rodeo's Wild N Blue during the Justin Finale, Sept. 9.
Steer wrestler Stetson Jorgensen made a 3.4-second run at the Gem State Classic Pro Rodeo in Blackfoot, Idaho, Sept. 3.
Team ropers Brenten Hall and Chase Tryan made a 4.1-second run at the Lewiston (Idaho) Roundup, Sept. 6.
Saddle bronc rider Ryder Wright made an 89.5-point ride on Calgary Stampede's Wild Cherry at Puyallup, Sept. 9.
Two tie-down ropers made 7.4-second runs this week, and both were in Puyallup. Monty Lewis made his time Sept. 8, while Tyson Durfey made his Sept. 9.
Steer roper Garrett Hale made a 10.4-second run at Lewiston, Sept. 4.
Barrel racer Brittany Pozzi Tonozzi made a 14.33-second run at Puyallup, Sept. 9.
Courtesy of PRCA