Wichita Falls Rodeo Provides Scholarships to FFA Students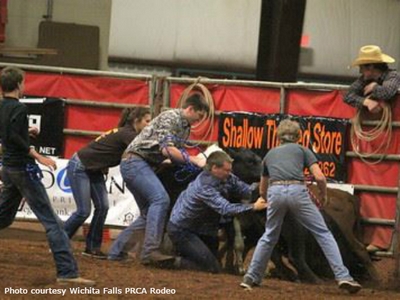 It's not just the cowboys who will leave the Wichita Falls (Texas) PRCA Rodeo with checks – several of the area's FFA students will compete in a calf scramble for their share of $5,000 in scholarships.
"We decided to do something to help someone and who better than the ag kids," said Kurt Tucker, president of the Wichita Falls PRCA Rodeo. "Most of the kids who participate are juniors and seniors and they take that money and spend it toward their FFA projects – or if they're seniors, they put it toward college in the fall."
About 30 students from Wichita and Archer counties will vie for the 10 scholarships worth $500 each.
"It's a good amount of money," Tucker said.
The rodeo's total payout was $20,000 last year with a full house both nights – about 4,500 spectators over the two-night rodeo. Not only are the seats full, but the roster is as well with more than 400 contestants registered, according to Tucker.
"It's been good and grown a lot faster than we prepared for – it's really started to take off," Tucker said. "We had 4,500 people over the two nights last year and, knock on wood, I hope we get the same."
The Wichita Falls PRCA Rodeo starts at 7 p.m. on April 21 and 22 at the J.S. Bridwell Ag Center.
Courtesy of PRCA