Wing's New K-9 Travelling Partner has Lifted his Spirits and Focus
By: Justin Felisko
May 23, 2017
PUEBLO, Colo. – What began as a night of bad juju for Stormy Wing on Feb. 11 inside the Sprint Center wound up actually becoming the beginning of the top highlight of his stunning first half.
Wing was laying inside his hotel room in Kansas City, hours after being knocked unconscious by Bad Juju during the first round of the Kansas City Invitational.
During those wee hours of the night, Wing had to make sure he would remain awake as he was recovering from a concussion. Luckily for him, he had a new friend by his side to help him through it.
Her name was Lyla.
The then 5-month old puppy is an Alapaha Blue Blood Bulldog and a Black Mouth Cur mix.
"Throughout the night, not only did she wake me up sleeping with me, but I would get up to check on her and make sure she was alright when she moved," Wing said. "She woke me up like you are supposed to (when you have a concussion)."
The two have been traveling together ever since.
Yes, Wing would go on to ride 2016 World Champion Bull SweetPro's Bruiser for a historic 95.25 points one month later.  And yes, the 27-year-old would then win his second event of the season on April 23 inside the Tacoma Dome in Tacoma, Washington.
However, one of the biggest "wins" of the first half for Wing this year has certainly been acquiring Lyla from J.B. Mauney and his wife, Samantha.
"We are together all the time," Wing said. "I don't want to say she is my lucky charm or anything like that. I won't say it is not, but I won't say (my success) is based on the dog or anything. It was just me."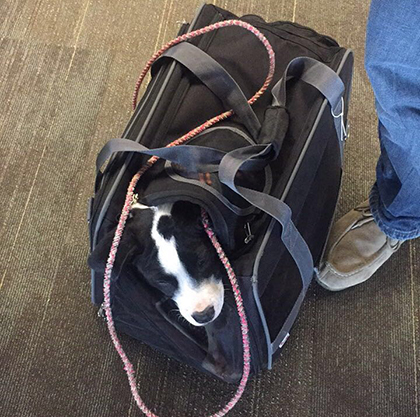 Wing heads into the Built Ford Tough Series summer break amidst one of the best seasons of his eight-year career.
He is ranked seventh in the world standings and his 30-percent riding percentage is his highest since covering 35 percent of his bulls in 2012.
Wing has already won over $104,000 – the second-most of his career in one season – and has a chance at finishing inside the Top-10 of the world standings later on this year at the 2017 Built Ford Tough World Finals on Nov. 1-5 in Las Vegas.
The Mauneys gave Wing the dog this year after Wing had asked for a puppy when he was living with them for parts of last season.
"He wanted a puppy from (the mother) Canella," Samantha said. "We let him pick the first one. Everybody likes Canella. He is the only one to have one so far."
Even Samantha agreed it was interesting that Wing's turnaround began around the same time as him getting Lyla.
"It is weird that he has done so good after getting her," she said. "I don't know if it make him more responsible or what. Maybe it does."
Wing was 2-for-11 (18.18 percent) before Lyla came with him to Kansas City.
He has since gone 10-for-27 (37.04 percent) with those two victories.
Coincidence or not to his bull riding success, Lyla has certainly been a positive addition to Wing's life.
"When you get done with the bull riding, I was born and raised where your animals got fed before you did anything," Wing said. "After the bull riding, instead of not having any responsibility, I need to go check on her and exercise her."
Wherever Wing goes, so too does Lyla.
That includes airplanes, car rides, Ubers and all of the above.
"I want her to be a good dog, and I want to take care of her and stuff," he added. "She is my responsibility. She is nobody else's, so I need to take her everywhere."
J.B. said following Wing's Tacoma victory that Wing was finally putting it "all together now."
"He has kind of been on and off in the past," the two-time World Champion said. "When he first showed up on tour as a rookie, he rode like that. Then he went through a couple of years of dry spells, but he knows how to ride bulls and he is putting it all together now."
Wing has found tremendous success since switching to a Brazilian bull rope this season, but he also has been a much calmer rider in and out of the arena since Lyla came around.
But don't you worry, Wing still has had his frustrations with his cute puppy like every dog owner.
Don't ask him where his favorite pair of Air Jordan's went or his Vexil baseball cap.
"I love her, but she is a pain in the ass sometimes," Wing said. "She chews a lot of shit up. You can't blame her. She is just a puppy. At the same time, she has been a lot of fun."
Raising Lyla has brought him back to his childhood when he was a kid helping his family raise horses, which he still does to this day.
"Dogs are just like horses, which I am very interested in," Wing said. "We raised horses and stuff. It takes a lot of time, being with them, for the good ones. Being with them, that is the only way they are going to get good. She is going to be alright."
Wing agreed that part of his happiness – not that he was miserable by any means prior to Lyla – stems from having a traveling partner in Lyla.
The seven-time qualifier for the Built Ford Tough World Finals hates being away from his daughter, Suede Marie, and would much rather be at home than on the road 30-40 weeks of the year.
Such is life as a professional bull rider, though.
"I think so too," Wing replied when asked if he is calmer. "(Lyla) makes you be on a schedule. I am kind of a home body. I don't like traveling. I never have."
Thanks to his strong first half, Wing can now take the summer off and relax at home and not worry about hitting the Real Time Pain Relief Velocity Tour or Touring Pro Division schedule as much as he had to in the past.
Instead, Wing may even look into using some of his BFTS winnings to buy a place in North Carolina.
"This summer I am going to take some time off near J.B.'s," he said. "Maybe I will get a place out there."
Wherever he ends up, you can expect Lyla to be right there with him, and maybe she will even get a dog house at Wing's new place.
Follow Justin Felisko on Twitter @jfelisko
© 2017 PBR Inc. All rights reserved.