Wisconsin Offers RMEF License Plates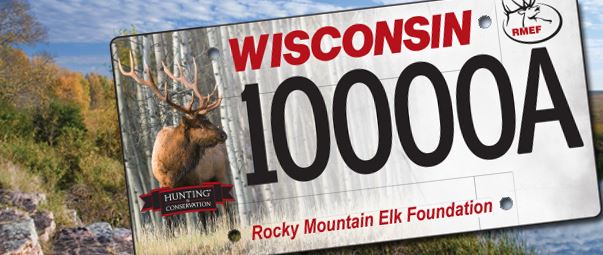 MISSOULA, Mont. — The state of Wisconsin is now offering specialty license plates that benefit elk and other wildlife within its borders as well as the Rocky Mountain Elk Foundation.
"We are grateful for and recognize the efforts of dedicated RMEF volunteers and staffers in Wisconsin for making this happen. We also appreciate Wisconsin state legislators in seeing this through and for Governor Scott Walker who signed it into law," said Don Blakley, RMEF vice president of Operations. "Funds collected from the sales of license plates in Wisconsin, and those in other states with RMEF specialty plates, go directly toward habitat enhancement work in that specific state and toward accomplishing our mission of ensuring the future of elk, other wildlife, their habitat and our hunting heritage."
Wisconsin becomes the tenth state to offer plates that benefit RMEF's conservation mission joining Idaho, Maryland, Missouri, Montana, North Carolina, Pennsylvania, South Carolina, South Dakota and Virginia.
The plates are available to any Wisconsin resident with a car, truck, farm truck or motor home. To see the newly designed RMEF license plate and for application information, go to the Wisconsin Division of Motor Vehicle page here.
Wisconsin is home to nearly 10,000 RMEF members in 24 chapters across the state.
Since 1990, RMEF and its partners have completed 404 conservation and hunting heritage outreach projects in Wisconsin with a combined value of more than $7.7 million. Those projects protected or enhanced 4,065 acres of habitat and opened or secured public access to 1,270 acres.
About the Rocky Mountain Elk Foundation:
Founded over 30 years ago, fueled by hunters and a membership of more than 222,000 strong, RMEF has conserved more than 7.1 million acres for elk and other wildlife. RMEF also works to open and improve public access, fund and advocate for science-based resource management, and ensure the future of America's hunting heritage. Discover why "Hunting Is Conservation™" at www.rmef.org or 800-CALL ELK. Take action: join and/or donate.
Courtesy of RMEF