Yu-Haul? Mize and Sellars Improvise Way to Rodeo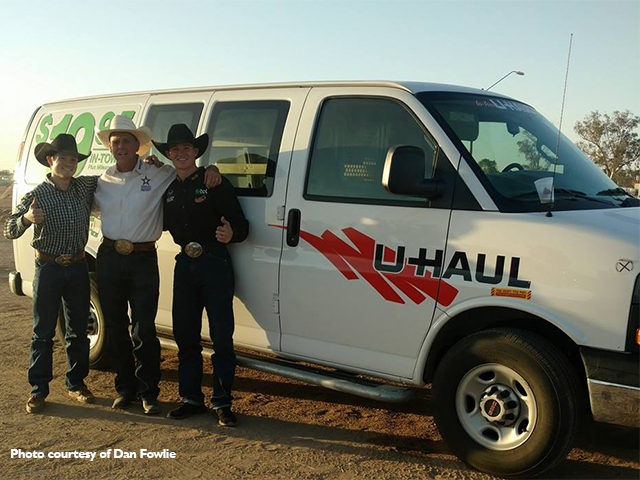 COLORADO SPRINGS, Colo. – On Feb. 11, bull riders Tristan Mize and Clayton Sellars found themselves in a mighty predicament.
On their way to compete in the final go-round at the Yuma (Ariz.) Jaycees Silver Spur Rodeo, not only did the two miss their initial flight into Phoenix Sky Harbor International Airport, but upon arrival, they learned something somewhat pertinent to their travel plans.
"We tried to rent a car when we got there, but we realized we were too young to rent a car," said Mize, 20. "We kind of panicked for a minute."
Stuck at the airport, the two brainstormed how to make it to Yuma. Then, a distant thought crept into Sellars' mind.
"We said, 'OK, what are our options?'", said Sellars, 19. "I had heard of some guys renting a U-Haul before, so I said, 'Let's just go rent us a U-Haul.' We didn't have any other choice."
Throughout the three-hour journey from Phoenix to Yuma, Sellars said that, at times, they couldn't help but joke at their solution.
"While we were driving, we couldn't help but laugh at it a little bit," Sellars said.
After finally arriving at the Yuma County Fairgrounds, the two were subjected to befuddled bystanders, including rodeo announcer Dan Fowlie.
"No one said anything, but you could definitely tell they were a little curious," Mize said. "We got there about 30 minutes early, so were just hanging out in the van. Dan Fowlie walked by us, and he looked at us. He looked away and he looked at us again, and you could tell he was trying to figure us out."
Fowlie contests his interest was solely the food he thought Mize and Sellars potentially had in the back of the oversized van.
"I thought they were guys bringing hamburgers to the VIPs", Fowlie said with a laugh. "I thought maybe if I plead my case that I'm on my way to the announcer's stand, they'll slip me one and I won't have to wait in line. Then I saw they had cowboy hats on."
In the end, Sellars and Mize placed second and third, respectively, in the bull riding standings, with Sellars posting a score of 80 and Mize with a 79. Fowlie appreciated the perseverance and the respectful nature of the young cowboys.
"Nowadays, there are so many people that don't have a passion," Fowlie said. "They kind of sit on the fence and let life happen. That's so neat to see two, young boys who are all in. That meant a lot to me see two kids with that much heart, that much confidence and that much commitment."
Is this adventure one to tell for the rest of his life? Well, Sellars thinks so.
"Of course it will," he said.
Courtesy of PRCA