Charly Crawford – Prineville, Ore.
Team Roping – Heading
8-Time WNFR Qualifier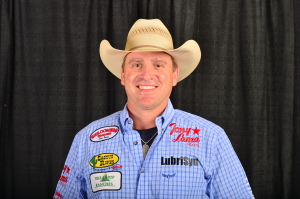 Five of the headers at this year's Wrangler NFR hail from Montana, Washington and Oregon. The Northwest might just have something in the water, and Charly Crawford wouldn't have it any other way.
The 36-year-old Oregon man was a runner-up champion in college and Rookie of the Year in 1998, then began quietly racking up the WNFR qualifications in 2005. He has never finished higher than seventh in the world standings, and would love to do so this season, armed with a fresh perspective on life.
Crawford cracked out this season by marrying 13-time WPRA world champion roper Jackie Hobbs, then soon crossed the million-dollar mark in career earnings. He also began roping for the first time with former college national champion Shay Carroll. The new pair should start out in Las Vegas with a lot of momentum – they won rodeos at the end of the season in Ellensburg, Wash., and Hermiston, Ore.
However, Crawford is competing with a bittersweet feeling. He made the WNFR this year on the heels of losing one of the best horses in rodeo. His favorite horse, Patron, tragically died in August after having been voted the second-best head horse in the PRCA for two years running.