Taz Olson Wins in Logandale
By Scott Kaniewski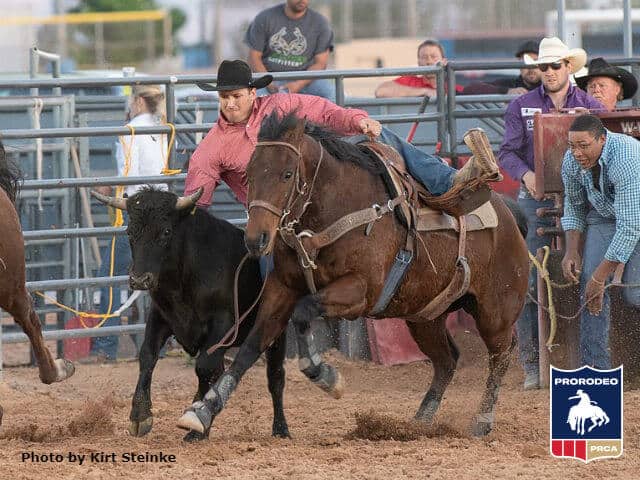 LOGANDALE, Nev. – Steer wrestler Taz Olson knew that the next few weeks were going to present a break in rodeoing for him.
Olson is heading home to Prairie City, S.D., to help his grandfather and father on the family ranch. He can go home with a big smile on his face.
The 26-year-old posted a 4.0-second run in the final round of the Clark County Fair & Rodeo in Logandale, Nev., Sunday night, to clock an average time of 14.5 seconds on three head to win the ProRodeo Tour event.
Olson earned $5,635 after finishing third in the first round, tying for first in the final round and winning the average.
In his fourth trip to Logandale, this was the first time he took home any kind of check, let alone the title and more than $5,500.
"That's the first time I've won money there," he said. "It's pretty cool. It was sure a good time. I've always enjoyed that rodeo, the fresh steers."
Olson was 37th in the PRCA | RAM World Standings heading into Logandale with $13,480. The win should help him break into the top 25. It will also put him right in the mix of the ProRodeo Tour Standings.
Olson was on Tanner Brunner's horse Bert for the first time, but quickly found he was as good as he looked.
"That was the first time I ever rode him," Olson said. "I wouldn't mind (getting on him again). He gave some pretty good goes."
He'll head back on the rodeo road for Guymon (Okla.) Pioneer Days Rodeo the first weekend of May.
"I'll be home until Guymon," he said. "I have to go home for lambing right now."
Other winners at the $246,318 rodeo were all-around cowboy Stetson Wright ($5,734, saddle bronc riding and bull riding), bareback rider Austin Foss (172 points on two head); team ropers Garrett Rogers/Jake Minor (15.9 seconds on three head); saddle bronc rider Isaac Diaz (174 points on two head); tie-down roper Tuf Cooper (27.6 seconds on three head); barrel racer Leia Pluemer (35.01 seconds on two runs); and bull rider Wright (174 points on two head).
Courtesy of PRCA