Jake Barnes (1959)
Team Roping (Heading)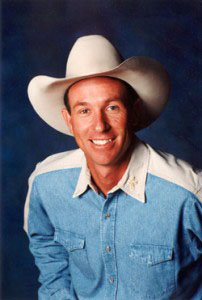 Jake Barnes was born April 4, 1959, in Huntsville, Texas. A seven-time world champion team roper (1985-1989, 1992, 1994), in 1994 he and partner Clay O'Brien Cooper set the National Finals Rodeo team roping average record with a time of 59.1 seconds on 10 head. That same year, Barnes and Cooper also set the PRCA record for most team roping world titles with seven – a record that wasn't surpassed until 2004.
Educated at Eastern New Mexico University (Portales), Barnes joined the PRCA in 1980 and qualified for the National Finals Rodeo his rookie year, the first in a string of NFR qualifications that currently stands at 27 (1980-95, 1998-99, 2002-05, 2007-08, 2011, 2014-2015). Though a traumatic brain injury in November 2015 kept him from competing in last year's national finals, 2016 has seen Barnes back in the saddle and competing.
A resident of Scottsdale, Arizona, Barnes holds three Wrangler NFR average titles (1985, 1994, 2007). He also holds one Tour Finale title (Summer 2005) from 11 Tour Finale qualifications and four National Circuit Finals Rodeo titles (1987, 1989, 1995-1996) from 12 NCFR qualifications. He was inducted into the ProRodeo Hall of Fame in 1997, and he won the inaugural Legends of Rodeo Award in 2006.