Remembering Hadley Barrett
Hadley Barrett: Sept. 18, 1929 – March 2, 2017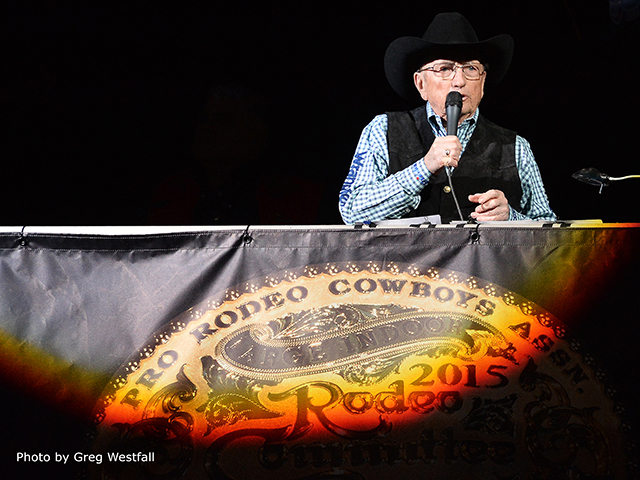 COLORADO SPRINGS, Colo. – The Professional Rodeo Cowboys Association lost a legend March 2.
Announcer Hadley Barrett, who was inducted into the ProRodeo Hall of Fame in 1999, passed away in the early morning hours of March 2 as a result of heart failure while at University Hospital in Denver, Colo. He was 87.
"I'm having a hard time dealing with this because he was not only my dad, but my best friend," said Trent Barrett, Hadley's son.
The last rodeo Barrett announced was the San Antonio (Texas) Stock Show & Rodeo, which ran Feb. 9-26.
Veteran announcer Wayne Brooks, who has worked with Barrett for years, was trying to come to grips with his passing.
"I've talked to everybody in the last two or three hours this morning, and the consensus is that he was supposed to be bulletproof," Brooks said. "Because that's not only the way everybody depicted him, but that's the way he came across. Regardless of age, the numbers don't count, he was just an ironman. We all know (passing away) is going to happen to us someday, but it doesn't seem possible that's happening now with him. It's unreal for sure."
Courtesy of PRCA
---
Hadley Barrett, 20 Year Announcer at the Greeley Stampede and a Rodeo Icon
Hadley Barrett is an institution in the world of rodeo. His mellow voice and treasure trove of facts have created a legion of fans at his appearances as announcer at almost every major rodeo across the country for over 40 years.
Hadley was born and raised in North Platte, Neb., and has lived for many years south of Kersey, Colo., on 50 acres where he and his wife Lee, raise Golden Retrievers and train their small herd of Pinto horses.
Barrett started his career as a rodeo announcer in the early 1950's when he would be asked to fill in for fellow rodeo competitor and announcer, Joe Cavanaugh. Hadley was riding bulls and bareback at the time and when Cavanaugh competed, Hadley would announce. The rodeo committee recognized Hadley's talent even then and asked him to announce a full rodeo. Hadley remembers the experience, "Back then it wasn't unusual for the announcer to compete and find someone to fill in for him while he was riding.
Courtesy of Tony Bruguiere and thefencepost.com
---
Hadley Barrett Passes Away at the Age of 87
The rodeo world lost a true icon of the sport and a dear friend of the WPRA on March 2, 2017 with the passing of rodeo announcer Hadley Barrett. He passed away at the age of 87 at the University Hospital in Denver, Colo., as a result of heart failure.
Born Sept. 18, 1929, in North Platte, Neb., Barrett started his career as a contestant and formed his own dance band, but found his place in rodeo history behind the microphone.
A PRCA member since 1965, Barrett has announced all of the big rodeos and a great number of the smaller ones across the country. He was named PRCA Announcer of the Year in 1983, 1985, 1989 and 2002 and won the WPRA Announcer of the Year award twice in 2001 and 2011.
My visit with Hadley on that July 1999 day was just before the first performance of the Kansas Largest Night Rodeo in Pretty Prairie. It was just a few weeks prior to his induction into the ProRodeo Hall of Fame, a designation he rightfully deserves.
I sat with him, his wife, Lee, and our dear friend, Connie Hedrick, who was a major part of the Pretty Prairie rodeo committee. We chatted about his love affair with that rodeo, one he began announcing early in his career.
Oh, and what a career.
Courtesy of WPRA
---
Hadley Barrett 1929-2017
Nearly 18 years ago I sat down at a little restaurant in South Hutchinson, Kan., to visit with a ProRodeo legend.
In that hour and a half, I learned more about Hadley Barrett, his family and his passions. He gave me insights that I never published, but I have carried them with me for almost two decades. He was more than a source to me; he also was my friend.
Hadley died this morning just five days after announcing the final round of the San Antonio Stock Show & Rodeo. He was 87. Memorials for him have already filled social media, and the tributes will continue for many weeks ahead. He was that kind of man.
He has called the action at the National Finals Rodeo, the National Finals Steer Roping, the Canadian Finals Rodeo and served for many years as the NFR TV announcer. His voice and rodeo were synonymous.
Courtesy of twisTEDrodeo.com
---
Rodeo has Lost its Voice with the Death of Hadley Barrett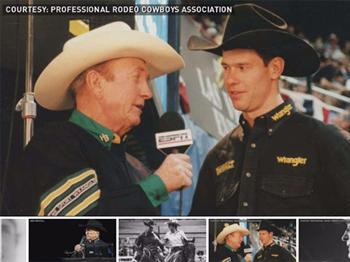 KUSA – The rodeo community lost one of its well known announcers late last week.
Hadley Barrett died Thursday morning at the age of 87.
He had heart failure.
See more at www.9news.com
Courtesy of PRCA
---
Hadley Barrett delivers prayer at the San Antonio Stock Show and Rodeo finals last Saturday night.
2011 ProRodeo Hall of Fame Induction
Hadley Barrett is the announcer during Tuf Hedeman's "Ride for Lane".
Hadley Barrett and Bob Tallman announcing the 1987 NFR where Lane Frost wins the bull riding event.
Hadley Barrett and Randy Corley: The Difference Between 'Rowdies' & 'Civies'
VIDEO CREDITS: PRCA, FROST FAMILY, SARA REMPELOS, SAN ANTONIO STOCK SHOW AND RODEO
---