Live score updates coming to Wrangler Network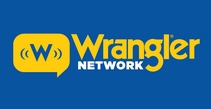 Live score updates from rodeos across North America will be coming to the Wrangler Network. Stay tuned in 2014 for updates as we bring you rodeo's most comprehensive source for live rodeo scores across the US and Canada.
Iconic American Denim Brand's '
Wrangler® Western Wear streams exclusive online content with launch of new western lifestyle network WranglerNetwork.com' Revolutionizes the Sport of ProRodeo with Live Streaming Video Footage, Rodeo Scores and Stats, and General Lifestyle Content
GREENSBORO, N.C. (Dec. 10, 2013) – Wrangler® Western Wear announced today the launch of the Wrangler Network, an online and mobile destination for fans interested in content relevant to the western, rodeo, and country music lifestyle including video coverage of events, news articles, blogs, music, with social media interaction, and more. The innovative launch allows fans access to rodeo coverage regardless of their location or cable access and provides a platform for partnering lifestyle organizations, rodeo committees, country music artists and fans to access, share and promote the sport of rodeo and the western lifestyle.
"There is an untapped market in the ProRodeo world – and the larger western lifestyle community – to give fans what they've been missing in live video and scoring," said Phil McAdams, president, Wrangler Specialty Apparel. "As a champion for the sport, as well as all things western, through the Wrangler Network, we will change that."
Expanding the brand's longtime partnership with the Professional Rodeo Cowboys Association (PRCA), Wrangler Network will be home to Wrangler Million Dollar Tour events, select 2014 Xtreme Bulls tour stops, other PRCA-sanctioned events, along with live PRCA scoring. The network will also spotlight ongoing blog posts provided by Team Wrangler members, and other western lifestyle celebrities. Country music fans can find the content they crave through the Country Music section housing songs by Wrangler endorsees and other notable artists.
"Wrangler has always been the number one supporter of the sport of rodeo and there is no other player in this industry better suited to get behind an initiative like this; one so focused on what is best for the sport, the cowboys, and the fans," Karl Stressman, commissioner, Professional Rodeo Cowboys Association. "The Wrangler brand has a history of launching programs that bring industry partners together, and this new Network will do just that as it becomes the go-to resource for all things rodeo. Our organization is excited to support this and know it will transform the way our fans see rodeo."
"The Wrangler Network creates the opportunity for us to partner with the PRCA to broadcast events directly to fans in ways that haven't been possible in the past," said Jeff Chadwick, director of special events, rodeo and equine, Wrangler Specialty Apparel. "We have made a significant investment to better the sport of rodeo by broadening the audience and increasing exposure to an unprecedented level. We look forward to working with rodeo committees to reach more people with content from the lifestyle we live and love."
In a testing stage during the 2013 Wrangler National Finals Rodeo (Wrangler NFR), the Wrangler Network now features live video and news segments from Las Vegas, including the exclusive Wrangler NFR nightly preshow stream, "The Draw" hosted by Stran and Jennifer Smith in front of a live audience at the MGM Grand in Las Vegas, Dec. 5 to 14. Additional currently featured footage includes segments such as "Cowgirl Corner with Jennifer Smith"; interviews by rodeo royalty including Shada Brazile – wife of 17-time world champion and fan favorite cowboy Trevor Brazile – and Miss Rodeo America 2013, Chenae Shiner; coverage of "Elevation Sunday with Mike Huckabee"; nightly Wrangler NFR performance highlights; interviews with the world's best professional rodeo athletes; and the "Wrangler NFR Memories with Dan Miller," a video series featuring rodeo greats like Bob Tallman.
The Wrangler Network is accessible online and on mobile devices at www.WranglerNetwork.com.
Wrangler Western can also be found online at www.wrangler.com, www.facebook.com/WranglerWestern, www.twitter.com/WranglerWestern,  www.instagram.com/WranglerWestern,www.pinterest.com/WranglerWestern, and www.youtube.com/WranglerJeans.
About Wrangler®
Wrangler® Western Wear is available nationwide in specialty stores, including work apparel chains, farm & fleet, and western stores, as well as through online and catalog retailers, andwww.wrangler.com. To find a retailer or for more information on the Wrangler® family of products, visitwww.wrangler.com or call 888-784-8571.
About VF
VF Corporation is a global leader in branded lifestyle apparel with more than 30 brands. The company's top six brands are The North Face®, Wrangler®, Timberland®, Vans®, Lee® and Nautica®; other brands include 7 For All Mankind®, Bulwark®, Eagle Creek®, Eastpak®, Ella Moss®, JanSport®, Kipling®,  lucy®, Majestic®, Napapijri®, Red Kap®, Reef®, Riders® , Splendid® and Smartwool®.
VF Corporation's press releases, annual report and other information can be accessed through the company's home page, www.vfc.com.