Austin Foss – Terrebonne, Ore.
3-time WNFR qualifier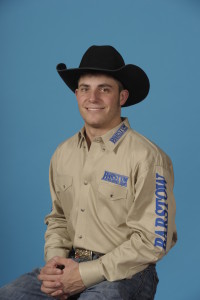 Austin Foss isn't the kind of guy to settle for second.
That's where he finished in the 2014 world standings and where he enters the 2015 Wrangler National Finals Rodeo (WNFR). There's nothing he wants more than to be in first.
While Kaycee Feild's success has gotten in the way of many bareback rider's goals, it has also pushed guys like Austin to ride better. That competition between contestants is often an underlying factor in their success.
Austin knows all about competition as an individual and as part of a team. He was an outside linebacker and kicker on the football team in high school at Redmond, Ore. He competed as part of the rodeo team for Blue Mountain Community College at the College National Finals Rodeo twice.
As PRCA Rookie-of-the-Year in 2012, he finished 21st in the world standings narrowly missing a berth at the WNFR. He has been there every year since. In 2013 he was on a roll in Las Vegas placing in three rounds before he had to withdraw during the last two rounds because of a herniated disc. He has done what he needed to do since then to remain healthy. Last year he made the trip to the South Point Hotel & Casino twice to pick up go-round buckles.
That was the best year of his career so far, entering the WNFR in third place and moving up a spot to second. This year if he moves up a spot he will be leaving Las Vegas with a world championship added to his rodeo resume.