Bobby Mote – Culver, Ore.
4-time World Champion
15-time WNFR qualifier
2-time RAM National Circuit Finals Champion
12-time RAM National Circuit Finals qualifier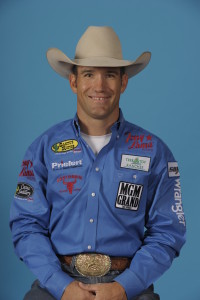 Remarkable would be just one of many words to describe Bobby Mote's rodeo career. He is headed to his 15th consecutive Wrangler National Finals Rodeo (WNFR) and shows very little signs of slowing down.
Bobby holds the record for round wins at the WNFR at 24. He isn't far behind Bruce Ford's total record of 19 and 18 consecutive WNFR qualifications. Setting records is just part of what motivates him to be the best. One of the records that has been in his sights since he won his fourth world title in 2010 is all about gold buckles.
Both Bobby and Kaycee Feild have won four world titles. The current record of five is held by Joe Alexander and Bruce Ford, men who Bobby has looked up to and that have inspired him to go for that next world title.
Bruce came out of retirement to qualify for his final WNFR at 46-years-old. Bobby is 39. Joe's last qualification came when he was 39. About the time that Joe hung up his spurts, he told the Fort Worth Star Telegram, "I've got to quit. A guy hates to quit, but there is a time and place for everything. I think it's about that time. I can still ride and compete but not as often. You can't beat that youth. Those young guys, they got you."
In today's bareback riding, the young guys are still looking for Bobby Mote to be the one to get them. He starts this year's WNFR ranked fifth in the world and had some pretty big wins to his credit, including the National Western Stock Show Rodeo in Denver last January and the Farm-City Pro Rodeo in Hermiston, Ore., in August. He also won the Wrangler Champions Challenge in Logandale, Nev.
Two things are for certain, young guys in the bareback riding are looking to beat Bobby Mote, and he is going to get his share of the money out of the Thomas and Mack Center at this year's WNFR.