Caleb Bennett – Tremonton, Utah
5-time WNFR qualifier
4-time RNCFR qualifier
1-time RNCFR champion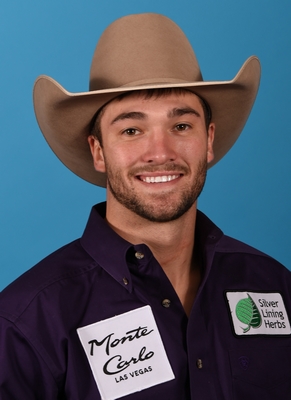 When Caleb Bennett was in college, his least favorite class was anatomy. He might want to rethink that as he has been using every part of his body to ride bucking horses professionally since 2007.
The past five of those years have seen him competing at the Wrangler National Finals Rodeo (NFR). The first year he qualified was in 2012 and that was also the year that he had his best finish in the world standings at seventh.
This year, Caleb has a new drive to be at the top of the leaderboard and his motto for life, "Do whatever it takes," has come into play on a daily basis. He has had more regular season success, particularly in Canada.
He leads the Canadian Pro Rodeo Association standings and will be vying for their championship in November. Then he will be working like a demon preparing for this year's NFR where he enters in third place. Caleb has $132,494 in regular season earnings.
Caleb has built himself a gym in his garage and to get ready for the NFR, he will work out two to three times a day. There is a big emphasis on Crossfit in his regime. He compares the explosive action of the workout to what happens in the bareback riding.
And, he sets daily work out goals along with his goals in the arena to keep him motivated and inspired. His biggest inspiration is love of the sport. In fact, he loves getting on bucking horses so much that he is now raising some and preparing for the future of rodeo along with his future.