Evan Jayne – Marseille, France
2-time WNFR qualifier
1-time RNCFR qualifier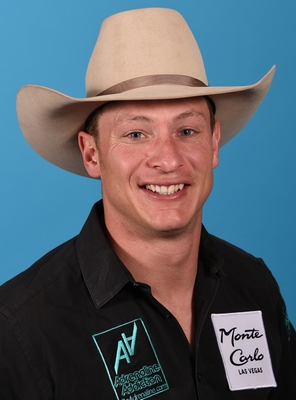 Last year, bareback rider Evan Jayne made history by being the first European born qualifier for the Wrangler National Finals Rodeo (NFR).
This year he is hoping to rewrite record books again. He earned over $50,000 in Vegas and finished the year in seventh place in the world standings. Coincidentally, that is where he is starting the competition this year with $81,581 won during the regular season.
Evan came to America as a high school exchange student to pursue his dream of becoming a cowboy. That landed him in Huntsville, Texas. In high school, he competed in team roping and bull riding as well as bareback horses. He stayed in Huntsville to attend college at Sam Houston State University where he earned his bachelor's degree in Agriculture Education.
He qualified for the College National Finals Rodeo and seemed poised to move into the ranks of the PRCA and get to the NFR. He joined the PRCA in 2002 and it would take 15 years of competing before he realized that goal.
Evan used his degree to teach and spent his summers and weekends at rodeos. He finished inside the top 30 in the world standings on many occasions before deciding to quit his job and make a run at the finals. That decision paid off for him last year. He won $53,788 at the NFR and finished the year 11th in the standings with $146,808 – a pay grade over his previous occupation.
Seeing the French flag flying around the Thomas and Mack last year was especially poignant. He and his wife and daughter were in France and flew home the day of the terrorist bombings in Paris.
He has started a bareback riding school in France and is hoping to generate more interest in rodeo as a whole in his native land. He may be the first European born contestant at the NFR, but if he has his way, he won't be the last.