Jake Brown – Hillsboro, Texas
2-time WNFR qualifier
1-time RNCFR qualifier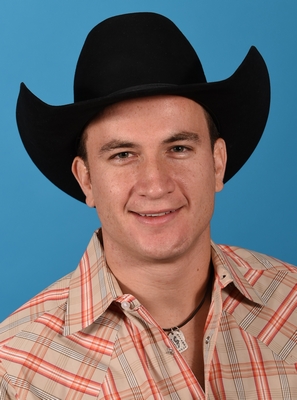 Last year, Jake Brown was having the best year of his career having qualified for his first Wrangler National Finals Rodeo (NFR) in third place.
Then he got to Las Vegas and disaster struck. He bucked off his four out of his first five horses. So, he changed his bareback riding rigging and along with that his attitude. He won the sixth round and left Las Vegas with nearly $50,000 added to his earnings.
Jake finished last year in eighth place but what he lost in the standings, he gained in experience and confidence. He started the 2016 year strong winning the National Western Stock Show Rodeo in Denver in January.
He was at the top of the world standings and was fully prepared to keep it up and enter this year's NFR in first place. Then disaster struck when he was riding at the Jasper, Texas, rodeo in May.
The Justin Sportsmedicine Team diagnosed him with a sprained thumb on his riding hand – critical for a bareback rider to grip. So, he had surgery to repair it on June 16 and missed the three busiest months of the season.
That was good for Jake whose injury list is enough to make nearly anyone cringe. The time off gave him time to get healthy. He had won enough money before he got hurt that his second NFR qualification was still a reality.
Then he came back the end of September and won the New Mexico State Fair Rodeo at Albuquerque and the Rose City Roundup in Tyler, Texas. He enters this year's NFR in ninth place with $76,154 in regular season earnings.
Jake's dad, Paul, is the rodeo coach at Hill College in Hillsboro, Texas. When Jake was born, his dad was at Frank Phillips College in Borger, Texas. Competing in rodeo came naturally, but his drive and perseverance has developed through years of experience.
Jake was a newlywed at last year's NFR. He was attending Sam Houston State University when he met his wife Nicole. His sister Tonile is married to bull rider Cody Rostockyj who will compete at the NFR for the first time. The first 10 days in December will give the Browns plenty to celebrate.