Jake Vold – Ponoka, Alberta
2-time WNFR qualifier
2-time Canadian Champion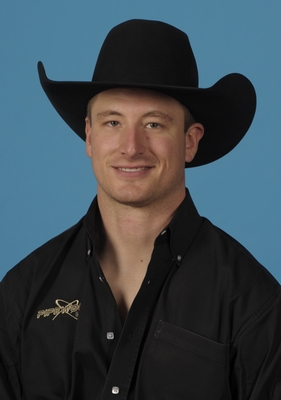 Two years ago, the Canadian flags were flying in the Thomas and Mack Arena every time Jake Vold nodded his head.
That was his first Wrangler National Finals Rodeo (NFR) qualification and what a time it was. He placed in eight out of 10 rounds and finished fourth in the average. He jumped from 11th to sixth in the world standings.
Last year, he narrowly missed the NFR, finishing the season in 17th place. This year has been much better for him. He enters the competition in 10th place with $74,821 in regular-season earnings.
Jake started the spring out with success in Texas winning the San Angelo and Austin rodeos. That set him up for a solid summer.
Their might not be a more recognizable last name in rodeo than Vold. While he is a distant cousin of the stock contracting family, Jake is making a name for himself as a bucking horse rider. He is a two-time Canadian Rodeo Champion and a seven-time qualifier for the Canadian Finals Rodeo. He will compete at that event in November and be vying for his third consecutive championship.
Jake is a second generation rodeo contestant following in the footsteps of his father that thrives on the competition. He loves watching his fellow bareback riders get great scores and then trying to beat them. With the amount of money available at the NFR, any bareback rider could win a world title. Jake has proven that he has the talent to do that and there will be a lot of Canadian flags flying again this year. He is trying to be the first Canadian to win a world title in the bareback riding since 1933.