Justin McDaniel – Porum, Okla.
6-time WNFR qualifier
2008 World Champion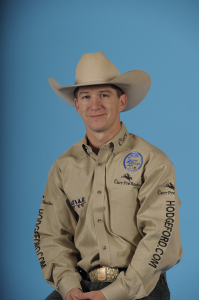 This may not have been the year that Justin McDaniel had hoped for as he qualified for the Wrangler NFR in 14th place, but the Oklahoma cowboy is thankful to be making a trip back to Las Vegas.
After joining the PRCA in 2005 and winning the Resistol Rookie of the Year in bareback riding, McDaniel was on a mission. He accomplished the first of his goals qualifying for the WNFR in 2007. The next year, he won the average title at rodeo's championship taking the world title back to Oklahoma for the first time in a decade.
Eric Mouton called Weatherford, Okla., home after attending Southwestern Oklahoma State University and earned the world title in 1997. He was born in Louisiana, so looking at native Oklahoman's that have earned bareback titles, McDaniel is the first since the late great Jim Shoulders back in 1958.
McDaniel finished fourth and second in the world standings for the next two consecutive years. Then injuries started to take their toll. He missed the 2011 WNFR and had shoulder surgery that September. He made his fifth trip back to Las Vegas in 2012 then missed the WNFR again in 2013.
This year, he has picked up checks at a lot of rodeos and managed to stay inside the top 15 for most of the season. When crunch time hit in August and September he was just outside that important spot and had some ground to make up. That was when he was crowned co-champion at the American Royal ProRodeo in Kansas City, Mo. The $1,588 he won there put him over the top.
"Nobody ever wants to be on the bubble," McDaniel said. "I've been there enough."
The year McDaniel won his world title, he entered the WNFR in 14th place, exactly where he is this year.