Kaycee Feild – Spanish Fork, Utah
4-time world champion
1-time Ram National Circuit Finals Champion
7-time WNFR qualifier
NIRA champion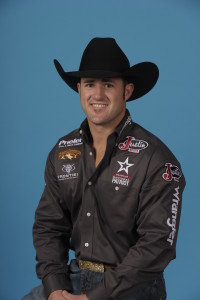 Kaycee Feild has a target on his back and he knows it. He says the other bareback riders won't tell him that, but he is realistic knowing that they all want to take him down.
He has set the standard for bareback riding over the past four years with consecutive world championships and Wrangler National Finals Rodeo (WNFR) average titles. And, all of it just makes him more competitive, work harder and win more.
Kaycee was in an unusual situation in rodeo early this year. He had a chronic injury that would require surgery that he was able to plan around his rodeo schedule. His goal was to go win as much as he possibly could before the surgery March 31. He knew he would be out of action for a while and hoped to return at the Reno (Nev.) Rodeo in June.
So, climbed to the top of the world standings with a $23,000 win at San Antonio in February. He came back as planned at Reno, but didn't win much then or over the Fourth-of-July Rodeos. On July 6th, he was 18th in the world standings.
A tie for the championship at the Snake River Stampede in Nampa, Idaho, the third week of July turned the heat up. He went on to win seven other rodeos and is once again dominating the bareback riding.
However, with the payoff at this year's WNFR no lead is safe. Kaycee has had huge successes in the Thomas and Mack Arena and no one that knows him would expect this year to be any different. He has won a share of 13 rounds over the last four years, eight saddles and more buckles than he has fingers and toes.
That target on his back gets a little bigger with each win.
Kaycee and his wife Stephanie recently welcomed a new baby boy to their family. They have a two-year-old daughter Chaimberlyn.