Richmond Champion – The Woodlands, Texas
2-time WNFR qualifier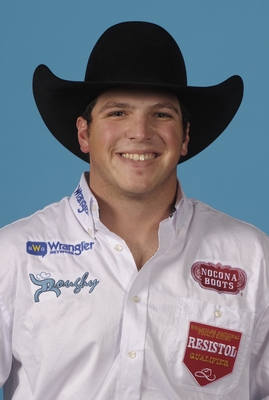 Competition is in Richmond Champions genes, and rodeo is in his blood – it's a great combination.
Richmond qualified for his first Wrangler National Finals Rodeo in 2014, won rounds five and seven, finished second in the average and third in the world standings. No one was more excited for the 2015 season than he was.
That excitement turned to discouragement as he had two separate injuries to his riding hand in March and again in August. In spite of that, he finished the year in 23rd place. This year has once again been filled with the highs and lows of rodeo.
He won everything he could at the Caldwell Night Rodeo last August and moved from 16th in the world standings up to 13th in the world where he enters this year's NFR with $69,169. He and traveling partner Jessy Davis (14th) and Mason Clements (18th) were all on the bubble and making a big last push to get to Las Vegas. Their truck was broken into and all of their gear stolen.
In spite of the ups and downs, Richmond has a love for the travel and comradery that goes with the competition. His parents have met him in places across the country where they could hike and fish. He and his traveling partners are always looking for adventure outside of the arena.
He gets a lot of that from his father Greg. Just last May, Richmond was cheering for his dad who competed at the Ironman North American Championship Triathlon last May in their hometown of The Woodlands, Texas.
"I'm so proud of my dad," Richmond said. With him making his second trip to Las Vegas for the NFR, it's safe to say that Greg is a pretty proud dad too.