Seth Hardwick – Laramie, Wyo.
1-time WNFR qualifier
2-time RNCFR qualifier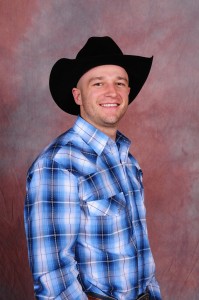 Seth Hardwick is looking at his first Wrangler National Finals Rodeo (WNFR) qualification as an endurance race.
While he's never been there before, he has the experience of his friend, three-time WNFR qualifier Casey Colletti to draw from. Until Casey got hurt, they spent many hours on the road together. Ten nights of getting on the best bucking horses in the world is grueling and Seth is going to take it one horse at a time, using his skills, talent and determination to get to the finish line.
This year, Seth's rodeo strategy changed and because of that he and his traveling partner Orin Larsen both benefitted from that. Instead of trying to out rodeo their competition, they tried to out ride them, picking the rodeos they entered carefully, getting more rest in between and being healthy every time they got on. It worked. Both are headed to Las Vegas for the first time. Seth enters this year's WNFR in 12th place.
That endurance mentality saw him earning three Wrangler Champion Challenge rodeos, at Redding, Calif.; Spanish Fork, Utah; and Pueblo, Colo.; during the regular season. The guy with the Bachelor's degree in business management and finance made his rides count when he needed to.
Seth joined the PRCA in 2011, the same year he graduated from Panhandle State University in Goodwell, Okla. It's remarkable that in that time he has won nearly a quarter of a million dollars ($80,639 of that this year), but has just now qualified for the WNFR.
While in college, Seth listed his parents as his heroes. "They supported me in doing whatever I wanted to do, which led me to the rodeo and bareback riding." His grandfather Norris Demaree, who passed away in 2012, competed in PRCA rodeos was also influential in his present career choice.