Tilden Hooper – Carthage, Texas
4-time WNFR qualifier
2007 NIRA bareback champion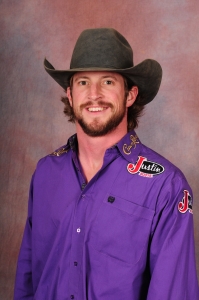 When Tilden Hooper rides at this year's Wrangler NFR, it will be with renewed energy and focus, mostly because he isn't playing with pain.
Hooper took the bareback riding world by storm earning the National Intercollegiate Rodeo Association title as a freshman at Panola (Texas) Junior College and the Professional Rodeo Cowboys Association Resistol Rookie of the Year titles the same year – 2007. One year later and he was headed to the WNFR.
He started traveling with Kaycee Feild and the duo were in a head-to-head fight for first place in the world standings early in the 2011 season. He had been plagued with neck pain and when it got worse and he started experiencing numbness in his free arm, it was time to find out why.
The Justin Sportsmedicine Team referred him to a neck specialist who diagnosed him with two herniated discs. They also said surgery would end his career. He opted for physical therapy and qualified for his third WNFR.
He finished the season 11th in the world and was determined to be back again in 2012. Fate had something different in mind as he finished the next year in 22nd place. It was time to explore all of his option for his neck so he went to the Seton Spine & Scoliosis Center in Austin, Texas where they did performed surgery fusing the disc with a bone graft.
He is now healthy and while he might not be riding pain free, the numbness is gone and he has control over his free arm.
"I've seen such a difference in Tilden," said Feild. "He's been working out a lot more, at home and on the road. He's focused and determined and I couldn't be happier for him."