Tim O'Connell – Zwingle, Iowa ($187,250)
5-time WNFR qualifier
2016-17 World Champion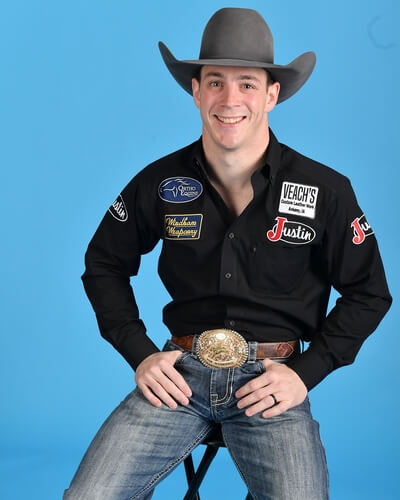 For the past two years, Tim O'Connell has entered the Wrangler National Finals Rodeo in first place and left with a world title. He is hoping that trend continues through the 2018 NFR and is halfway to attaining that goal.
O'Connell leads the bareback riding field with $187,250 in spite of having a slow start to his season. While he was in the top 10 the first three months of 2018, it wasn't where he wanted to be and he admittedly didn't have his head in the game.
Tim and his wife Sami were expecting their first child last March. While Tim was competing at the big winter rodeos, his thoughts were with Sami and he was making plans to get home and be there for the birth of their son. Hazen came as expected and after his birth and time with the new family, Tim was more motivated than ever.
He tied for the championship at the RAM National Circuit Finals Rodeo, an event that he won in 2016. His climb back to the top was steady and after he got his first pair of Reno Rodeo spurs, he was in second place and closing the gap for first.
Over the Fourth of July, he won more than any other competitor at $31,014 and was less than $1,000 out of the top spot. During "Cowboy Christmas," he won titles at Greeley, Colorado, Oakley City, Utah and St. Paul, Oregon. It was his third championship at St. Paul.
After winning California Rodeo Salinas, he moved to the top and that is where he has remained. In five years of PRCA membership, he has had a very successful career that has included wins at most of the big rodeos. However, this goal-oriented cowboy is still reaching for more. He has yet to win the San Antonio Rodeo and add that to his PRCA resume. The Calgary Stampede and Rodeo Houston are also on that list.
Adding Hazen to the family has been one more reason for Tim and Sami to count their blessings. He never takes his success in the arena for granted, but has found a way to balance his love of getting on bucking horses with his desire to be a good husband and father. He always treats rodeo like a job and while he loves what he does, keeping it in perspective reminds him of what is important in his life.
For the past three years, Tim has ridden at the NFR with a yellow ribbon on his collar. He and Sami have a 16-year-old friend, Ayden Wright, who has been fighting cancer for four years and the ribbon honors him as well as raise awareness of childhood cancer.
Presented by: