Tim O'Connell – Zwingle, Iowa
3-time WNFR qualifier
2-time RNCFR qualifier
1-time RNCFR champion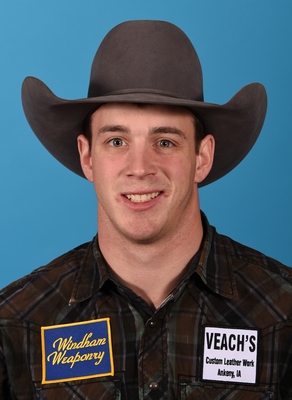 Tim O'Connell is hoping that his steady rise to the top of the world in the bareback riding will lead him to his first gold buckle.
The three-time Wrangler National Finals Rodeo (NFR) has his best opportunity this year. He enters the race for the world in first place with a $50,000 lead. He has regular season earnings of $178,964. After finishing in fourth place in the world standings last year and winning over $130,000 in Vegas, he was ready for 2016.
Tim started the season out with a big win at the Fort Worth Stock Show & Rodeo. Then he won the title at the RAM National Circuit Finals Rodeo, the first national title of his season. He had the most successful season of any bareback rider winning 16 rodeos and tying for the title at two others.
He holds the number one position entering the 2016 NFR with Tim$178,964 in regular season earnings. Starting the 10 nights in Vegas is important to him, but leaving with that gold buckle is even more important.
Tim's climb up the ladder has been steady and fast and furious. He joined the PRCA in 2013, finished as the rookie of the year and if it wasn't for injuries, likely would have qualified for the NFR the same year. 2014 saw him make his first trip to Vegas where he finished the season eighth in the world.
Last year, he won $131,353 at the NFR and moved up to 4th place in the world standings. It's all part of the second-generation cowboy's plan. Last year was an extremely busy year for him outside of the PRCA arena as well. He graduated from college and won the National Intercollegiate Rodeo Association championship. He bought a house and married his wife Sami.
This year, he has been healthy all year and been able to focus on his competition goals. That has all paid off. The former wrestler's competitive nature and love of getting on bareback horses makes him a contender every time he nods his head.