Will Lowe – Canyon, Texas
14-time WNFR qualifier
3-time World Champion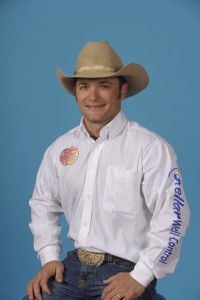 There is one bareback rider in this year's field that has had more success and a longer career than Will Lowe – Bobby Mote.
Will's success in the arena is due to several factors – talent, dedication, love of getting on bucking horses, tradition, but most of all he has been very healthy in his 14-years as a member of the PRCA. He has rarely missed a rodeo and that has increased his opportunities to get to the pay window.
Growing up in an agriculture environment in Kansas started Will's love for horses and livestock. He attended the American Royal every year and the highlight of that was going to the rodeo. He started competing at the ripe-old-age of seven and never looked back.
Will earned the PRCA Rookie-of-the-Year award in 2002, the first year he qualified for the Wrangler National Finals Rodeo (WNFR). He has never missed a year since then, has earned three world titles along the way, the average in Las Vegas twice and perhaps most importantly of all, gets to celebrate his anniversary every year there.
A long and illustrious career means lots of rodeo championships and the buckles that are awarded. One of those buckles that Will always wanted comes from California Rodeo Salinas. It has been a rodeo he has dreamed of winning for years. That dream came true this year when he tied for the championship with Caleb Bennett.
With Will, what happens in Vegas never stays in Vegas. He and his wife Tiffani got married during his first NFR qualification in 2002. Tiffani is a barrel racer and they try to hit a few rodeos together each year. They also have two boys, Garrett who is six and Levi who will be four in January.