Aaron Pass – Kaufman, Texas
1-time WNFR qualifier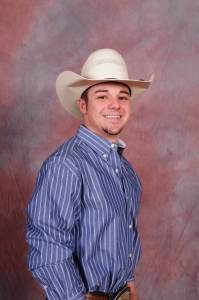 Aaron Pass did not grow up riding horses, working with cattle or any of the other things that typical ranch kids do. Born and raised in Dallas, he is a self-proclaimed "city boy."
Pass got his start in the bull riding world with help from his cousin Bryan Richardson, a three-time Wrangler NFR qualifier who is eight-years-older than the 25-year-old Pass. He has steadily climbed his way to his first WNFR after joining the Professional Rodeo Cowboys Association in 2010. Hard work and perseverance paid off this year as he enters the rodeo in 14th place.
He started the year off strong after being crowned co-champion at the Fort Worth Stock Show & Rodeo Bulls Night Out. The guy he tied with – none other than world champion J.W. Harris. Pass was coming off of success on the Championship Bull Riders Road to Cheyenne Tour and the win in the Will Rogers Memorial Coliseum was just what he needed and a big confidence boost.
One month later, that confidence would serve him well as he survived a bull riding wreck that gave him notoriety with a viral video with over 6,000 shares on Facebook. Pass was riding at the West Monroe (La.) Pro Rodeo on Feb. 21. He came off early and when his spur got caught in his bull rope, the bull drug him around, tossed him in the air and played with him like he was a rag doll.
Luckily, Pass was not seriously injured. He did pull his hamstring, had some bruises and the excitement and terror of it all probably raised his blood pressure, but not enough to keep him down. He rode at a CBR event the next night in Lufkin, Texas and scored 91 points.
However, the injuries continued to nag him. He still managed to win the Goliad County Fair PRCA Rodeo in March and hung on to tie for the title in Corpus Christi, Texas in April with Elliot Jacoby.
After a slow summer it was crunch time and three more rodeos in Texas (Amarillo, Tyler and Pasadena) helped him secure his trip to Las Vegas. He will make the trip out there with his wife, Kaysie. The couple welcomed their daughter Lakelynn into the world last June.