Beau Hill – West Glacier, Mont.
3-time WNFR qualifier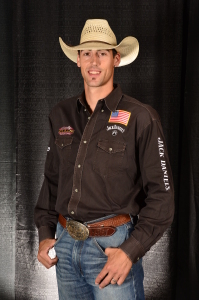 Beau Hill might be the most unlikely bull rider to qualify for this year's Wrangler NFR.
At 6-feet 2-inches and weighing in at 190 pounds he is the tallest and heaviest bull rider in the field. At 35-years-old, he is definitely the senior of the group. Josh Koschel, next in line comes in five years younger than Hill. And, it's been 10-years since his last qualification to rodeo's championships.
But his fans know to never count the determined Hill out. While rodeo wasn't his priority for much of the past decade, he was having success in the Professional Bull Riders qualifying for their World Finals four times. Injuries had taken their toll and when he came back he was ready for a change. That change meant making the Professional Rodeo Cowboys Association circuit a priority.
His family, wife of 12 years, Keri, daughter Lakia and sons, Jace and Jory travel with him. It's been a long but fruitful year that had him winning three rodeos in his home state and an additional three across the border in Canada. That also helped him qualify for the Canadian Finals Rodeo.
Hill has been competing with a chronic wrist injury and has used the time off before the WNFR to give it a rest. He will likely be spending lots of time with the Justin Sportsmedicine Team during the competition to keep up with the rest of the field.
"These kids now come up and train and work on it," he told Scott Mansch, sports editor for Great Falls Tribune. "They're hitting the gym more like NFL players, much more than in the past. The kids are riding really good and I feel privileged to still be able to compete."
Mansch described Hill as one of the top bull riders in Montana history. That's important for the humble Hill as he looks forward to this year's WNFR with renewed confidence and enthusiasm.