Brett Stall – Detroit Lakes, Minn.
2-time WNFR qualifier
2-time RNCFR qualifier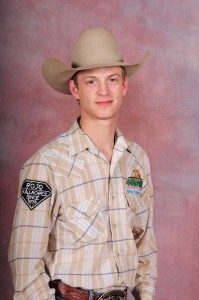 It's likely to be a whole lot warmer in Las Vegas than his Minnesota home when Brett Stall makes his second trip to the Wrangler National Finals Rodeo (WNFR) this December.
Born and raised in Detroit Lakes, Minn., Brett's family runs a hay and cattle ranch, and he helps work the place and ice fishes when he's not on the rodeo trail.
He is one of a handful of bull riders to make it to Las Vegas from Minnesota and has been representing the state since before he went pro.
In high school he tried his luck in baseball, football and wrestling before focusing on bull riding and becoming a star in that event. Brett became the state's champion bull rider in 2008. He went to the National High School Finals four times before joining the PRCA in 2010.
It was in 2012 when Brett made his first qualification to the WNFR. He almost made it back to the Thomas & Mack in 2014, but finished just shy of the top-15 at 16th in the world standings. This season has been much better for the 26-year-old cowboy.
He was 15th in the standings by the Fourth of July run. Then he had a big win at the Buffalo Bill Cody Stampede that netted him $9,076. That win moved him to 11th and gave him a real chance at another trip to Las Vegas this year.
He comes into the WNFR in 9th place with over $76,000 won and several other 2015 rodeo wins to his name. Brett is not one to rest on his laurels and titles don't affect him as much as eight-second rides do. He is very serious about riding bulls and doing it well. He will be looking at 80-seconds of bull riding in Las Vegas very seriously and using it as an opportunity to climb up in the standings.