Caleb Sanderson – Hallettsville, Texas
1-time WNFR qualifier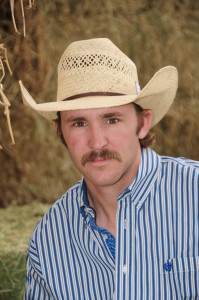 Though Caleb Sanderson has been riding bulls for years, the 26-year-old cowboy is a somewhat new face in the PRCA.
He joined last year and was co-champion at the Days of '47 rodeo and won the Mesquite Spring Classic in Texas. He finished fourth in the rookie standings and 44th in the world.
Caleb, who is on the tall side for a bull rider at six feet three inches tall, isn't new to the sport. He qualified for the National High School Finals Rodeo four times from his native state of Florida, finishing as reserve champion his junior year.
He has been competing ever since and is following in the footsteps of his father and grandfather. Caleb is also a true cowboy. His family has a ranch near Kissimmee that his dad Benny runs.
His grandparents have a ranch in Texas and he moved there to help them several years ago. That was life changing as that is where he met his wife Nikki. They were married in 2014, the same year that Caleb joined the PRCA.
Caleb has had a strong second year in the PRCA, winning the Seminole Classic Xtreme Bulls in Florida, the Magic Valley Stampede in Idaho and got two wins and a co-championship at three rodeos in Texas.
With his stature in and out of the arena, Caleb is hard to miss. He has seen urban sprawl take its toll on his native state of Florida and is using his bull riding career as a platform to influence and educate kids about the history and tradition of rodeo in his state.
Caleb is leading the 2015 Texas Circuit Standings and will be competing at their finals over the New Year holiday. He is hoping to stay in the #1 spot and go back to Florida to compete at the RAM National Circuit Finals in April. Whether he is in Florida, Texas, or Las Vegas, his fans have a lot to cheer for.