Chandler Bownds – Lubbock, Texas
3-time WNFR qualifier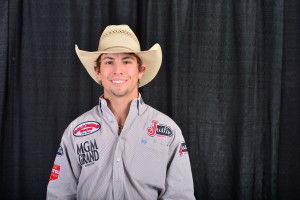 Not many bull riders credit their success in the sport to a stock contractor — Chandler Bownds does.
Chandler won a whopping $21,692 at the San Antonio Stock Show Rodeo last February. That put him well on the way to his third Wrangler National Finals Rodeo (WNFR). For one of rodeo fan's favorite cowboys; winning is nothing new.
Stock contractor Lyndal Hurst lives at Slaton, Texas, just 20 miles from Chandler's home in Lubbock. That proximity gave Chandler the opportunity to ride bulls at Lyndal's place growing up. The two remain close friends, and how he calls the man his mentor.
Chandler was the Youth Bull Riding World Finals champion in 2010 before advancing into the professional ranks. He joined the PRCA in 2011 and was the Resistol Bull Riding Rookie of the Year. It was a great season for the amiable bull rider as he qualified for his first Wrangler National Finals Rodeo. That year, he made the trip to the South Point Hotel and Casino for the go-round buckle presentations twice, and finished eighth in the world standings.
It's been an every-other-year type of qualifying schedule for Chandler since. He missed the 2012 WNFR but was back in 2013. He was out in 2014 finishing close at 20th in the world standings, He'll enter the Thomas and Mack Center in fifth this year with over $88,000 won so far.
This season, Chandler describes as one of his best and credits his win at San Antonio as a good start. Since then he's "coasted" along with steady earnings and a collection of rodeo wins. The other rodeos he won included Walla Walla Frontier Days in Washington; the Cody (Wyo.) Stampede Champions Challenge; and the Greeley (Colo.) Stampede Xtreme Bulls.. Now all eyes turn to Las Vegas.