Chase Dougherty – Canby, Ore. ($109,349)
First-time WNFR qualifier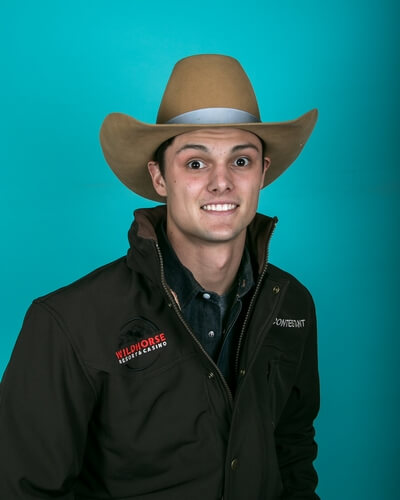 Chase Dougherty's first Wrangler National Finals Rodeo qualification is no surprise to anyone that knows him.
He joined the PRCA in 2016, the same year he graduated from high school. He rode bulls in high school and qualified for the National High School Finals Rodeo all four years. He also found time to feed his competitive spirit participating in football, wrestling and was a pole vaulter in track.
As he was preparing for his goal of qualifying for the NFR, he headed off to college where rodeo coach, Andy Bolich, described him as one of the hardest working members of his team. But the rodeo road was calling.
Chase hit it hard in 2017 and finished the year in 19th place. The bulk of his $72,754 in career earnings came just last year. He more than doubled that this year at $109,349.
While finishing in 19th might have been disappointing for some, it was motivating for Chase. He was 19 years old and had gained a lot of confidence. He won the RAM Columbia Circuit Finals and was looking forward to the New Year. He got that started off right with a big win at the National Western Stock Show Rodeo in Denver in January.
He rode three bulls in the Denver Coliseum for 252.5 points and $8,262. That combined with the money he had already won put him 11th in the world standings. He was on his way.
Then he dislocated his shoulder at Sisters, Oregon on June 10th. When it was still giving him trouble at the Reno Rodeo, he thought he would need to take some time off. He did, but not nearly what anyone expected.
Chase knew if he was going to make the NFR, that the Fourth-of-July and it's unprecedented amount of money to be won was an opportunity he didn't want to miss. So he went on. He added $2,131 to his earnings and managed to stay in the top 15. By the end of July, with help from a win at the California Rodeo Salinas, he was 10th and kept climbing up to fifth place where he will start the NFR.
Chase's never quit, never give up attitude came from his father, Johnny, who also rode bulls. He works to stay fit and be ready for anything a bull might throw at him. For a big part of that, he relies on balance and to improve his balance, he rides a unicycle.
All of those people who have believed in him from the beginning have been rewarded with his first NFR qualification. And, they are all excited to see him nod his head in the famed yellow chutes of the Thomas and Mack Center for the first time in his rodeo career.
Presented by: