Cody Teel – Kountze, Texas
5-time WNFR qualifier
2-time RNCFR qualifier
2012 World Champion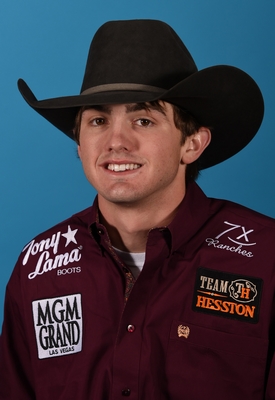 With four Wrangler National Finals Rodeo qualifications behind Cody Teel, it's hard to think that a fifth will be any different.
But it certainly will. Teel, 24, will kick off the 2016 NFR with a wedding. He and Kaitlin McDonald got engaged on Aug. 16 and it seemed only natural to plan a Vegas wedding. So the night before Cody climbs on his first bull in the Thomas and Mack Center, he will be saying I do and making a lifetime commitment.
Cody's commitment is part of what has made him one of the most successful bull riders in the PRCA for the past five years and again in 2016. He joined in 2011, won the College National Finals Rodeo for Sam Houston State University in Huntsville, Texas. He finished second in the rookie and 20th in the world standings that year.
The next year, he qualified for his first NFR and there was nothing stopping the lanky Texan. He beat J.W. Harris for his first world championship by just over $1,000. 2013 was another stellar year when he won his first average title and finished second in the world. This time J.W. was at the top.
In 2014, he added nearly $50,000 to his earnings and finished fifth in the world standings. Last year he won his second average title, nearly $200,000 and finished second in the world again.
This year, Cody enters his fifth NFR in sixth place with $102,194 in regular-season earnings. Earlier this year, he crossed the $1 million mark in PRCA earnings and plans to keep adding to that.
Cody's love of riding bulls comes from his dad, Robbie Teel, who is a former bull rider in the PRCA. His mother Kami holds her breath every time he gets on, but has always encouraged him. He has an older sister Hailey who has watched him grow up and work hard to accomplish his goals. As his family grows so does his fan base and they all see more gold buckles in his future.