Dustin Bowen – Waller, Texas
1-time WNFR qualifier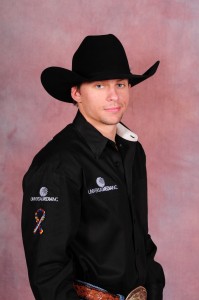 He may list Waller, Texas, as his address, but Dustin Bowen grew up in Pennsylvania and like many other contestants, has found Texas easier to rodeo from.
He is making his first trip to the Wrangler National Finals Rodeo (WNFR) this December. The 24-year-old bull rider is also an all-around competitor riding in the bareback event at the College National Finals Rodeo.
Like many other contestants, Dustin Dustin competed at the National High School Finals Rodeo multiple times, finishing as high as second in the bull riding in 2009.
Texas became home when he attended Odessa College where he earned his degree in welding technology. In 2014, Dustin came close to making the WNFR when he had a big win at the Atlantic City Boardwalk Rodeo in New Jersey along with several other rodeos that helped him finish just out of the top 15 at 18th in the world standings.
This year things ended differently. Dustin competed in a reported 122 rodeos this season, and he comes in tenth in the pack. He has earned over $65,000 for 2015. Rodeo wins at Leduc Black Gold rodeo in Alberta and the Wrangler Champions Challenge in Rapid City, S.D. where Dustin was co-champion, have helped him qualify this year.
It's fitting that the rodeo-cowboy lifestyle not only includes a lot of travel, but is very outdoorsy, because Dustin loves to travel and hike. He enjoys rock climbing and has used his rodeo schedule to find places to take advantage of his love for nature. He's been rock climbing all over North America and says he plans to enjoy his trip to Las Vegas with some stops along the way to partake of his other passion.
Since reaching new heights is something that Dustin is used to, it will be exciting to watch him compete at the Thomas and Mack Center over 10 nights at the WNFR.