Elliot Jacoby — Fredericksburg, Texas
2-time WNFR qualifier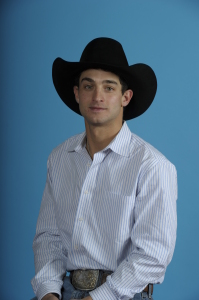 Elliot Jacoby's success in the Professional Rodeo Cowboys Association got a jump start due to the misfortune of another bull rider.
He was at home in Fredericksburg, Texas, in February of 2013, when he got the call that he could compete at the San Antonio Stock Show Rodeo as a replacement. That resulted in success at the rodeo just 80 miles away and the $3,100 that he won put him on his way to his first Wrangler NFR qualification. He entered in 14th place and after a disappointing finals finished the year 15th in the world standings.
That put a huge desire in the 24-year-old to make it back to Las Vegas and redeem himself. He has been on a mission this year. The end of March he had barely cracked the top 20 in the world standings. Then he was the co-champion in Corpus Christi with Aaron Pass. He moved up to 10th. He moved all the way up to sixth, was back down to 10th and was looking forward to Cowboy Christmas over the Fourth of July.
He was competing at the Greeley (Colo.) Stampede Rodeo on June 29th when a hang up resulted in a multitude of injuries. He had a severe concussion, his ear was nearly torn off and he had broken his right jaw. As a result of that he missed some of the most lucrative rodeos of the season. While there were seven rodeos he missed , he still came back less than a month later and attempted to ride at the the Snake River Stampede in Nampa, Idaho.
After a buck off in Nampa it was off to the California Rodeo in Salinas which has one of the most coveted buckles in the PRCA. He made the most of that trip earning $8,575 and now has the buckle that many cowboys dream of wearing.
While his year didn't go as he had planned, Jacoby accomplished a huge goal by making it to his second consecutive WNFR where he will have 10 opportunities to redeem himself from last year.