Garrett Smith – Rexburg, Idaho
1-time WNFR qualifier
2-time RNCFR qualifier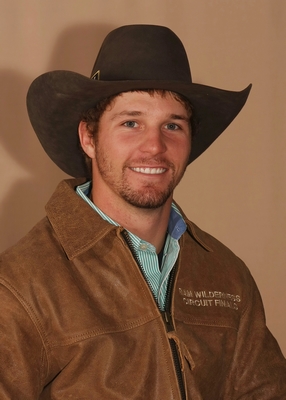 When Garrett Smith nods his head at the 2016 Wrangler National Finals Rodeo (NFR) on Dec. 1, it will be the first time he has ever competed in the Thomas and Mack Center.
However, it won't be his first appearance in the arena at rodeo's championship event. Garrett, 21, is part of a rodeo family that includes Wyatt his older brother who qualified in the steer wrestling in 2014.
Wyatt wasn't having any success at the NFR and needed to change something. So, for the sixth round, he asked Garrett to haze for him. That broke the ice for Wyatt who finished in second place and finished his performance with a cartwheel and backflip in the arena.
While they grew up practicing all the rodeo events together and hazing for each other is second nature, that was the most nervous Garrett has been in his rodeo career. It wasn't about his own performance, but how badly he wanted to do a good job for Wyatt.
Garrett has qualified for this year's NFR in 10th place with $94,429 almost identical to the $94,454 that he has in career earnings from 2014 and 2015. He holds the record for most all-around titles in the National High School Rodeo Association at three. He qualified for their finals in six events.
He decided to specialize in his favorite rodeo event, bull riding, this year even though he also has had success in the PRCA in the steer wrestling. That decision certainly paid off. Last year he finished 22nd in the world standings. in the bull riding and 14th in the all-around category.
This year got off to a slow start and Garrett didn't appear in the top 20 of the world standings until the middle of July. He jumped into 11th place thanks in part to a big win at the St. Paul (Ore.) Rodeo that netted him nearly $8,000. Then he won a round at Cheyenne Frontier Days in Wyoming.
He has continued to win even past the 2016 season and is looking forward to 2017. Garrett was the champion at the All American Pro Rodeo Finals in Waco, Texas, and finished as the reserve champion at the Wilderness Circuit Finals.
Garrett and Wyatt also have a younger brother Payson who is likely to be the next rodeo star in the family. The whole family has been involved and they are the first ones they turn to for help or advice. They are also a big support system and will be on hand for Garrett for 10 days in Vegas.