Jordan Spears – Redding, Calif.
2-time WNFR qualifier
1-time RNCFR qualifier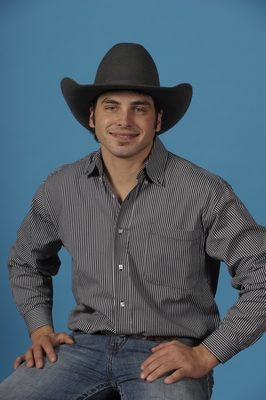 Jordan Spears was more nervous about riding in the grand entry than he was about getting on a bull the first time he competed at the Wrangler National Finals Rodeo (NFR).
That had nothing to do with riding a horse for the bull rider who still competes in team roping. In fact, while he was in college he competed in bareback riding, team roping and tie-down roping as well as bull riding. He qualified for the College National Finals Rodeo in 2011 in his signature event for Mesalands Community College in Tucumcari, N.M.
A year away from rodeo competition had him hungry to get back to Las Vegas and while he might not be looking forward to the grand entry, he is definitely looking forward to getting on bulls. He qualified for this year's championships in fourth place with $104,108 earned during the regular season.
Another finals qualification was earned for Jordan this year when he won the bull riding at the Columbia River Circuit Finals Rodeo. He will be going across the nation to compete at the RAM National Circuit Finals Rodeo in Kissimmee, Fla., next April.
Jordan's biggest influence has been his dad Randy who was also a member of the PRCA. Randy still ropes and they rope together whenever they get the chance. Randy has pushed Jordan to be the best that he can be in and out of the arena and most importantly, been there to pick him up when he was down.
He couldn't imagine what it would be like riding a horse in front of 18,000 fans and experience the NFR first time in 2014. Now, he knows what to expect and even though he will be getting on a horse he's never ridden before, this cowboy is glad to be back in the Thomas and Mack Center, but more excited for the bull riding than the grand entry.