Parker Breding – Edgar, Mont.
2-time WNFR qualifier
2014 RNCFR Champion
2-time RNCFR qualifier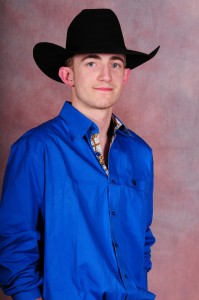 Parker Breding missed the 2014 Wrangler National Finals Rodeo after suffering a broken arm in April at the Clovis (Calif.) Rodeo, and finishing the year in 27th place.
He's been healthy this year and is coming in far from under the radar at the number two spot with over $122,000 won. Parker joined the PRCA in 2011 and placed in three rounds of the WNFR in 2013 to finish 10th in the world. In 2014 he started off slow but picked things up when he won the Ram National Circuit Finals Rodeo.
Now though it's clear, the determination to make it to his second WNFR has carried him strong in 2015. This year, Parker has raked in the wins, including some big ones in Kissimmee, Fla., at the Wrangler Champions Challenge and the Justin Boots Championships in Omaha, Neb.
Parker gets a lot of support from his family and advice from his dad, Scott Breding, whom he calls his rodeo idol. Scott made the trip to the Thomas and Mack Center coming out of the famous yellow bucking chutes five times.
With a record amount of money in the payouts for this year's WNFR, Parker will definitely have a shot at over taking Sage Kimzey who leads him by $52,353.89, a seemingly large number when you consider Parker is just one spot behind Sage. However, the total prize money in the bull riding, and other events, at the WNFR is over $1.2 million, so it's not out of the realm of possibilities. Parker will definitely be hot on Sage's trail in just a couple of weeks at the Thomas & Mack.
At his first WNFR, Parker placed in three rounds of competition and finished 10th in the world standings. Now with that experience, the success that he's had during the regular season and all of Montana supporting him, Parker is a contender.