Reid Barker – Comfort, Texas
2-time WNFR qualifier
1-time RNCFR qualifier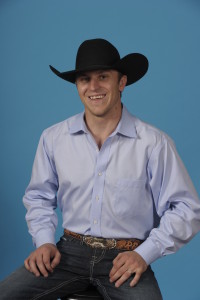 In just three years of membership in the PRCA, Reid Barker has seen it all — the highs and lows of competition, near-death situations and chronic injuries.
He was having a stellar year last year, then met heads with a bull at the Central Wyoming Fair Rodeo in Casper in July. He missed a month of competition of competition and won his first rodeo back at Caldwell, Idaho.
He qualified for the Wrangler National Finals Rodeo in seventh place, but instead of moving up as he had expected, he moved down to 14th. This year, the Comfort, Texas resident qualified in 14th and is looking for redemption.
His desire to become a bull rider started with riding sheep. He progressed from there to calves, then bigger steers, junior bulls and then full-grown bulls that only have the goal of bucking someone off.
Reid played football in high school and as a running back scored 35 touch downs and rushed for more than 1,000 yards. He soon realized that while he had been strength training for football, he would never be strong enough to out power a bull.
When his focus was completely on bull riding, he lost weight and focused on flexibility and agility, both necessary to ride bulls. His football experience still comes into play every time he gets on the back of a bull however. It taught him to be mentally tough.
He's going to need all of the mental toughness he can get as he faces 10 nights man-versus-beast competition at this year's WNFR. He can draw off of all of his experiences, near-death, football, move up in the world standings and pad his pockets.
That's more important than ever for the 23-year-old cowboy. He and his wife Shelby have a one-year-old daughter Shelby. Reid is intent on doing the best thing he can for his famiy, and a little redemption wouldn't hurt either.