Sage Kimzey – Strong City, Okla.
3-time WNFR qualifier
1-time RNCFR qualifier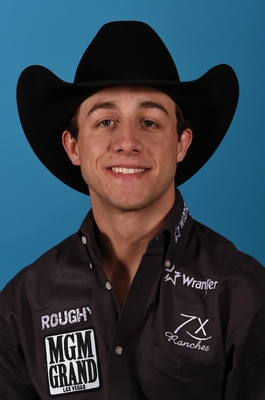 In a time when people are being encouraged to "think outside the box," Sage Kimzey spends ups his mental game by thinking inside the box.
That thinking has made him the most successful bull rider in the PRCA for the past two years. When Sage was growing up and started getting on calves and steers, his dad told him to ride like he was inside a glass box. That would keep him square on the bull and in position to ride and win.
It hasn't always been easy in spite of how easy he makes it look. He joined the PRCA in 2013 and won more money on his permit than any other contestant in the history of the organization. The next year, right off the bat he won over $40,000 at San Antonio between the rodeo and Xtreme bulls. The path continued to the NFR where he won his first world title and was the big money winner in Las Vegas earning the RAM Top Gun Award.
He was on fire and ready for 2015. It was another stellar season where he entered the NFR in first place with over $174,000. Then he bucked off of his first two bulls in Las Vegas and people were shocked.
He came back in the third round and won second and continued through the competition riding all the seven of the remaining eight bulls. Sage finished second in the average, won $152,577 at the NFR and his second gold buckle.
This year started off with another win at San Antonio, a rodeo that is definitely among his favorites. He leads the field going into the NFR by over $50,000 with $171,990 earned during the regular season.
Sage's middle name "Steele" is often included on contestant rosters and in results. It's not that he's made of steel. That name actually came from his grandfather who was the fourth generation to live and operate the family homestead near Strong City. Sage's dad Ted is the fifth. Sage has been investing in cows and is likely to be the sixth.
Ted was a longtime PRCA barrelman and clown and Sage, along with his sister, Dusta, and brother, Trey, were raised traveling across the country going to rodeos. His mother Jennifer has been a big supporter and will be in the stands holding her breath every time Sage nods his head.