Shane Proctor – Grand Coulee, Wash.
5-time WNFR qualifier
2011 World Champion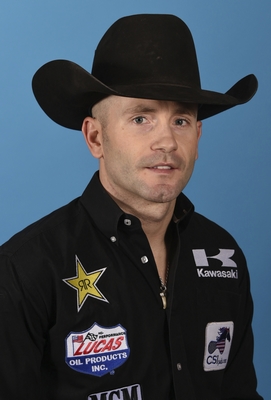 Shane Proctor has fans all across the nation.
He was born and raised in Grand Coulee, Wash., went to college in Powell, Wyo., and then Bozeman, Mont., and now lives in Troutman, N.C., and has friends and family in every spot and several in between.
The 2011 world champion bull rider is returning to the Wrangler National Finals Rodeo for the fifth time in six years. His first trip to Las Vegas for rodeo's championship was when he left with the gold buckle.
Shane loves to travel and meet people and it's a good thing he does. Not only is he a star in the PRCA, he also has been one of the top contenders in the Professional Bull Riders. It was through the PBR that he met his wife Jessi who is a barrel racer and sister to J.B. Mauney who is another PBR star.
He made it back to the NFR in 2012 and 2013 finishing in fourth and sixth places respectively. 2014 found him at home in North Carolina instead of collecting frequent flyer miles as he had two shoulder surgeries.
Last year he again qualified for the NFR in eighth place. He earned $123,385 in Las Vegas and finished the 2015 season in third place with $202,398. Shane is on track to make another milestone this year in Las Vegas.
Through the 2015 season he had $859,447 in career earnings. He has won $80,300 so far this year and that puts him just over $60,000 away from joining rodeo's millionaire club.
Shane competed in saddle bronc riding and bareback riding in college. He occasionally will still be among the tie-down ropers and counts many of them as his friends. He cracked his bronc saddle out this year to win the all-around titles at Moses Lake, Wash., Lehi, Utah and Sidney, Iowa.
He earned his spot at the NFR this year by $6,000 over Trevor Kastner. His family and friends across the country are so glad he did and are setting aside the first 10 nights of December to root for Shane.