Tim Bingham – Honeyville, Utah
2-time WNFR qualifier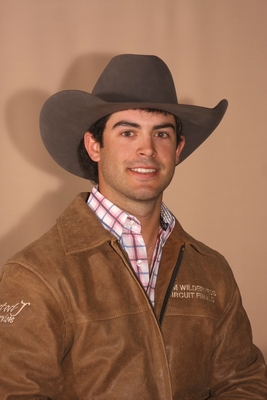 It would seem that Tim Bingham might just be a little bit accident prone, not good for a bull rider.
He grew up in West Haven, Utah, riding horses and being outdoors whenever he could. And he participated in every sport he could from soccer and basketball to track and wrestling if he could compete, he did.
When he was nine years old and a friend invited Tim to a youth rodeo, there was no hesitation. He entered the pony bareback riding, tied for second place and got a check for $12. He and his younger brother Tyler started getting on mini bulls. Their parents got them some to practice on and started adding to the herd.
Soon they were hauling kids and bulls to the youth rodeos. When Tim was in seventh grade he was transitioning to big bulls and would enter in both categories at the rodeos.
When he started high school he said goodbye to mini bulls and was just riding big bulls. It's also where his injury list began. It started with a broken leg, then a collapsed lung and finally a broken neck, all in the same rodeo arena at Panguitch, Utah.
A good high school student, Tim decided to continue his education in the Southern Region of the National Intercollegiate Rodeo Association because he thought the bull riding competition would be tougher.
He qualified for the College National Finals Rodeo in 2013 where disaster struck again. After winning the first round he broke his arm in three places. He went back to the championship rodeo again in 2014 and this time emerged injury free and as the champion.
His success in the rodeo arena continued in the PRCA as he qualified for his first Wrangler National Finals Rodeo and finished the season in seventh place.
Last year was again a year of disappointment as he finished the year 32nd. This year he has won $81,321 and enters his second NFR in 13th place.