Chuck Schmidt – Keldron, S.D.
3-time WNFR qualifier
1-time RNCFR qualifier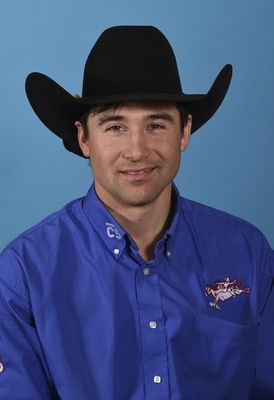 In today's world of technology and social media, saddle bronc rider Chuck Schmidt is a bit of an anomaly.
He doesn't have a Facebook account, thinks that Twitter is what the birds do in South Dakota and is inactive on social media. That's unusual for a 28-year-old these days. It does make sense though after getting to know the quiet understated cowboy.
He studied history at Black Hills State University and qualified for the College National Finals Rodeo (CNFR) three times. He won the saddle bronc riding title at the 2008 CNFR. His favorite book is Big Enough by the western author Will James, who died in 1942, 46 years before Chuck was born.
One would think that Chuck might have been born a century too late. But, he would never have had the opportunities to compete and win in rodeos like he has had in this century. Chuck has qualified for the Wrangler National Finals Rodeo (NFR) three times.
The first time he was there, in 2011 he broke his foot and had to sit out the last two rounds. He also missed the beginning of the 2012 season. He still finished in 12th place and was on a mission to get back to the NFR.
In August of 2013, he was 16th in the world standings and competing at a rodeo in Okotoks, Alberta. When he came off of the bucking horse he was riding, he landed on his head and that was disastrous. Chuck had dislocated two vertebrae at the base of his neck. He had surgery to fuse them together and missed all of the 2014 season.
His parents, Stuart and Lisa, are ranchers so he had plenty of work to do as he healed. He came back in 2015 and qualified for the NFR, won $27,346 and finished the season in 12th place. He enters this year's championship competition in 13th place with $71,129.