Cole Elshere – Faith, S.D.
3-time WNFR qualifier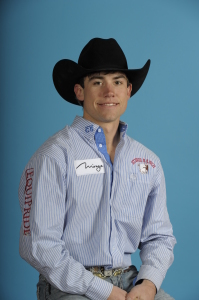 South Dakota is known for producing some of the greatest saddle bronc riders and Cole Elshere is no exception.
hat legacy started when Earl Thode from Belvidere, S.D., won the first saddle bronc riding world championship presented in 1929. It was solidified when Casey Tibbs from Fort Pierre earned five more in from 1949 – 1954.
Now it seems only fitting that Elshere is going to portray Tibbs in a documentary film. Tibbs also won the bareback riding world title in 1951 and all-around championships in 1951 and 1955. The film entitled Floating Horses – The Life of Casey Tibbs is scheduled for release in 2015.
Elshere got his Professional Rodeo Cowboys Association membership card while he was in college in Gillette, Wyo., in 2010. He qualified for the College National Finals Rodeo that same year and earned over $20,000 while competing on his permit. When he made the commitment to focus on rodeo it wasn't long until he was a familiar face in the winner's circle. He has qualified for the Wrangler NFR three consecutive times.
Always one to give back, he found time in his busy schedule to help out at the Badlands Rodeo Bible Camp in August. Then it was back to rodeos until he had three days off in September. He used that to help gather and vaccinate cattle on the family ranch before heading back out to the Pendleton (Ore.) Round-Up.
Watching Elshere's classic style in the saddle bronc riding, few would know that the first bucking horse he got on was a bareback. Growing up he watched his cousins J.J. and Ryan Elshere riding saddle broncs and thought it looked like fun. Now he is having the time of his life riding bucking horses on rodeo's biggest stage.