Dustin Flundra – Pincher Creek, Alberta
3-time WNFR qualifier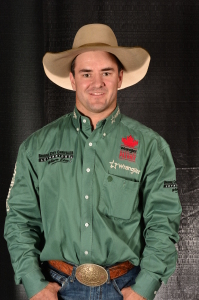 It's been four years since Canada has had a representative to the Wrangler NFR in saddle bronc riding and that was Dustin Flundra. Being among the top 15 and punching a ticket to Las Vegas is almost as big a deal for his native country as it is for Flundra.
But it came with a lot of drama. He was ranked 11th in the Professional Rodeo Cowboys Association world standings for much of the season, then saw himself slipping down and was 16th until the final weekend.
Things didn't go well at the Justin Boots Championships in Omaha, Neb. So it was off to smaller rodeos hoping to cash in. That's exactly what happened at Hanna, Alberta. He got on a horse from Bar C5 rodeo called Red Tide, a horse that he placed on at Cheyenne (Wyo.) Frontier Days. A 79-point effort earned him second place and a check for $771. That was enough and good news for Flundra, but bad news for South Dakota's Troy Crowser who finished in the crying hole, $160 behind Flundra.
Qualifying for the WNFR is definitely a highlight of his season, but a highlight of his life came last July when he won the $100,000 round at the Calgary Stampede. It was the 13th time he had entered the rodeo and the fourth time to qualify for the short round.
The three-time Canadian Champion saddle bronc rider had been waiting for that win for a long time. Making it even more special was the opportunity to share it with his wife Niki and their son Ridge. Niki is a talented trick rider and horse trainer that has performed all across North America including the WNFR. The couple is expecting their second child and Niki will find herself being a mom and a spectator at this year's WNFR. They also have a cow-calf operation to keep them busy when they aren't at rodeos.